See New York City in a way you've never seen it before with On Location Tours!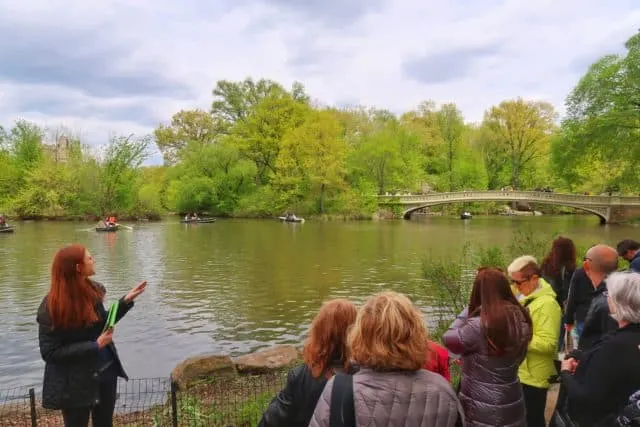 We were invited to tour Central Park as part of On Location Tour's TV & Movie Sites walking tour. Our 2-hour journey through the park included over a dozen stops that have been used in over 30 films and TV shows.
We received our tour for free in exchange for our review. This is our honest review of our tour experience.
On Location Tours
On Location Tours has been in business for 20 years. They offer unique TV and Movie-themed bus and walking tours in New York City and Boston.
Here are the tours they have currently listed on their site:
New York City Tours
NYC TV & Movie Tour
Sex & The City Hotspots Tour
Gossip Girl Sites Tour
The Super Tour of NYC
Sopranos Sites Tour
When Harry Met Seinfeld Tour
TCM Classic Film Tour
Holiday Lights & Movie Sites Tour
Boston Tours
TV & Movie Sites Tour
Movie Mile Walking Tour
On Location Tours: Central Park TV & Movie Sites Walking Tour
Central Park is iconic, beautiful, and diverse. So it's no wonder that it's been the location for so many movie and TV scenes. The park is also huge, which makes the prospect of walking around the whole park with kids a little daunting.
Thankfully, the On Location Tours Central Park Movie and TV Sites walking tour is very family-friendly. While it takes two hours from start to finish, the pace was leisurely and we stopped over a dozen times. Plenty of those stops had benches in the area for people in our group to get off their feet for a moment if they needed. We also had a 10-minute break to use the bathroom and grab a snack in the middle.
The stops were all clustered in the southern part of the park. We started at 59th street but never went higher than than about 72nd. Our tour started on the 5th Avenue side of the park and ended over on 8th Avenue. We walked around a mile and a half total.
Tour Highlights
Kate, our tour guide, did an excellent job of mixing facts about Central Park, asking trivia questions, and giving us inside info on some of the scenes shot at the locations we visited. And while we enjoyed the whole tour, these three locations stood out for us:
Duck Pond / Gapstow Bridge
This is the spot in "Home Alone 2: Lost in New York" where Kevin first sees the "Pigeon Lady". It's also where he finds her at the end of the movie to give her the turtle dove.
At this spot we learned that in the winter the pond freezes which allowed the pigeon lady to stand closer to the bridge. It was a good start to the tour because the whole family knows this movie.
This location is also used in "The Devil Wears Prada", "King Kong", and "The Smurfs".
Bethesda Fountain
Bethesda Fountain is a special place for us. It's the spot where I proposed to Lisa. This was the first time we brought the kids to the fountain.
Many movies and TV shows have used Bethesda Fountain as a location for scenes. The big song and dance number from "Enchanted" has its finale here. And the kids got a kick out of the fact a scene from "Avengers" was shot at the top of the steps.
Something I learned on the tour was that back in the day, the nearby archways were often used instead of traveling to a foreign country. Other movies that used this location are "Friends With Benefits", "One Fine Day", "Elf", "27 Dresses", "Ransom", and the TV show "Sex in the City".
Sheep Meadow / Tavern on the Green
The final stop on our tour was another favorite. Aside from learning where Sheep Meadow got its name, we also were at the location from one of our favorite movies: the original "Ghostbusters".
Not only is Tavern on the Green is the place where Rick Moranis' character is turned into the Key Master, but from that spot we could see the building used as "Spook Central" in the movie. And yes, there is even a church next to it.
Other movies shot here: "Wall Street", "Mr. Popper's Penguins", "Hitch", "Beaches", and "The Out-of-Towners".

Is it Worth It?
I was expecting the kids to be bored because they didn't know most of the movies that were talked about on the tour. But both said they enjoyed exploring central park in general, and got excited when a movie they knew was mentioned.
While it helps to be a fan of movies, I don't think you necessarily have to be a movie buff to enjoy this tour. With all the movies that were featured on our tour, chances are you've seen at least one or two. And I know that we were inspired by the tour to go home and watch the movies that we learned about.
This tour would normally cost $31 per adult and $21 per child (6-9). That would be $114 for our family of four. That's not a bad price compared to other walking tour options in New York City.
And since it only takes 2 hours, it's easy to pair the tour with some free time exploring the park, a fun lunch, a Broadway show, or one of the other million things to do in New York City.
If you're interested in taking the tour, they are held daily at noon all year round. You can reserve your spot online.