Welcome to the first stop aboard Magical Blogorail Blue. Enjoy the ride as we share "The Perfect Disney Meal."
---
There is so much delicious food to choose from when you visit Walt Disney World. Not only that, but there are a wide variety of locations and amenities that make your meal extra special. Imagine if you had to power to create your ultimate Disney meal. What food would you choose? Where would it be? What extra magic would you include? The possibilities are endless!
We have granted ourselves that power and today are giving you both of our Ultimate Disney Meals. We thought it would be fun to include both of our points of view since we have two different tastes when it comes to Disney food.
Lisa's Meal – Breakfast with a View
Pineapple Macadamia Nut Pancakes and Kona Coffee from Kona Cafe
When thinking about my ultimate Disney meal, at first I had a hard time. For me, my most favorite Disney dishes were not ones that were served at dinner. Then it hit me. Why not do breakfast? Besides, breakfast is the most important meal of the day.
Food:
For the food portion of my meal, I pieced together some of my favorite breakfast from some of my favorite breakfast locations in Walt Disney World.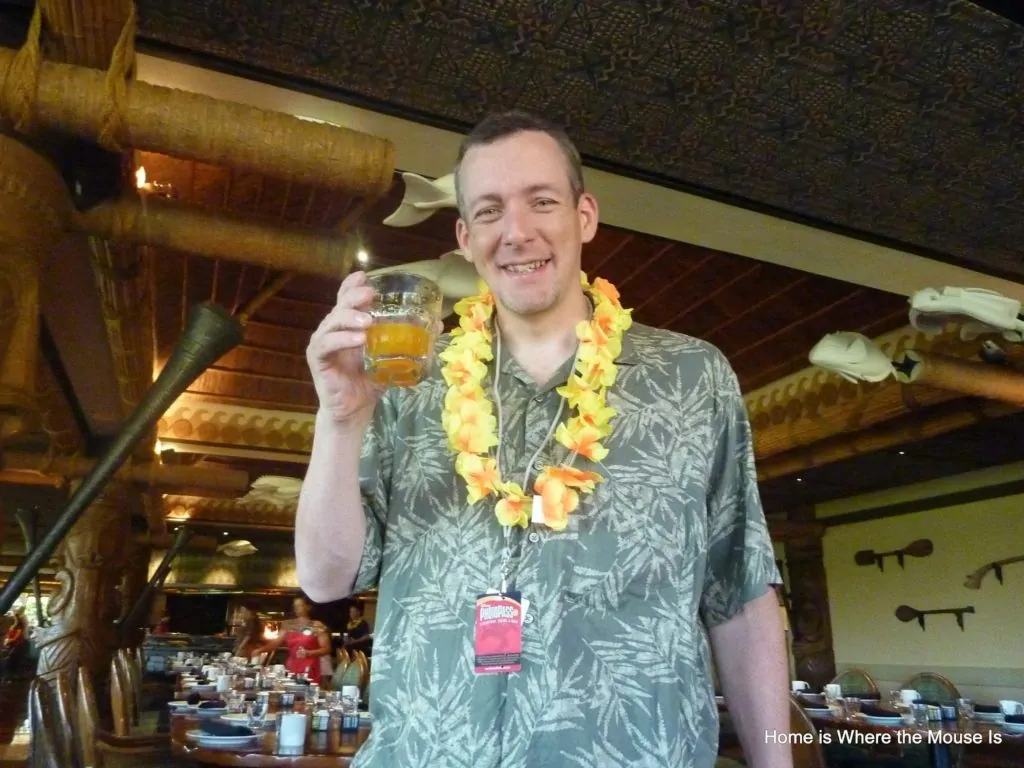 James enjoying Passion Fruit, Orange, Guava juice at 'Ohana
Kona Coffee – Kona Cafe
Jungle Juice/POG Juice – Tusker House/'Ohana
Pineapple Macadamia Nut Pancakes- Kona Cafe
Breakfast Potatoes – 'Ohana
Mealie Pap (traditional South African porridge) – Tusker House
Nutella Waffle Sandwich – Sleepy Hollow Inn
Location:
View from our Bay Lake Tower veranda
For my breakfast, I wanted a great view. One of my favorite memories is waking up to the view of Cinderella's Castle from Bay Lake Tower. So my meal will take place in room on the veranda. There's no better way to wake up.
Extras:
Timed just right, my breakfast will take place just as the Magic Kingdom is opening. Softly in the background I'll hear the beautiful tune of the Welcome Song followed by the horn of the Walt Disney World Railroad pulling into the station.
James' Meal:
Filet Mignon and Butter-Poached Lobster Tail at Narcoossee's
I'm not a breakfast guy. Don't get me wrong. I love a good omelet, or some fluffy pancakes with maple syrup, and of course I loves me some bacon. But there are days I wake up and don't eat anything at all until lunch time. So it's no wonder I'm usually famished by the time dinner time comes around.
My perfect dinner comes from meals I've actually eaten. While my appetizer was not served as such when I had it, the portion was small enough that I think it could work as one. Dessert was probably the toughest item to choose, but since this is all hypothetical, flying in my dessert from a Disney Cruise Line ship doesn't seem that impossible, now does it?
My Dinner Menu: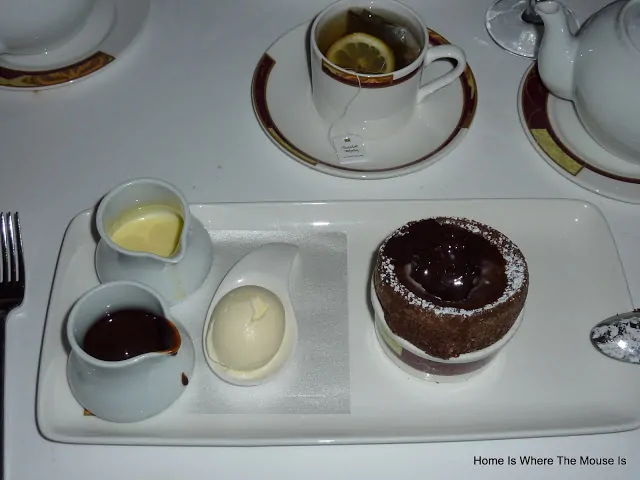 The Chocolate Souffle from Palo aboard the Disney Dream
Beverage: Bottomless Vanilla Milkshakes – Whispering Canyon Cafe
Appetizer: Roasted Quail stuffed with Serrano Ham and Gruyere Cheese – Victoria & Albert's
Soup: Cheddar Cheese Soup and Pretzel Bread – Le Cellier
Salad: Salad? Ha Ha Ha Ha!
Entree: "Surf and Turf": Char-crusted Angus New York Strip Steak – Flying Fish Cafe, and Butter-Poached Lobster Tail – Narcoossee's
Side Dishes: Potatoes – 'Ohana, Garden Fresh Vegetables – Garden Grill
Dessert: Chocolate Souffle – Palo, Disney Dream
My Location
Wishes above Cinderella Castle, Magic Kingdom
Lisa chose such a great spot for her meal that I'm very tempted to do the same. But I think I'll have mine inside Magic Kingdom. Although nothing from its menu made it into my meal, Casey's Corner is my favorite counter service restaurant, and I can't think of a better place to eat my meal while listening to live music from the piano, the Main Street USA music, watching the Main Street Electrical Parade as it goes by, followed by Wishes!
I would linger until the kiss goodnight and be the last person to walk out of the park, strolling down an empty Main Street (if I'm able to walk).
Thank you for joining us today. Your next stop on the Magical Blogorail Loop is Rolling with the Magic.
---
Here is the map of our Magical Blogorail should you happen to have to make a stop along the way and want to reboard:
1st Stop ~ Adventures in Familyhood – Perfect Meals to Begin and End Your Day (you are here)