Earlier this year, Disney announced that they are closing their children's activity centers. They hinted that some alternative might be in the works. This weekend, the brand new Pixar Play Zone opened at Disney's Contemporary Resort.
For parents who want some adults-only time at Walt Disney World, this is a great new option. Here's what we know about the Pixar Play Zone so far…
Pixar Play Zone
Pixar Play Zone is a new entertainment experience that takes place nightly from 6-10:30 p.m at Disney's Contemporary Resort. You do not need to be staying at the resort to make a reservation. It transports young guests ages 4-12 to a world full of excitement and adventure with their favorite characters from Disney•Pixar animated films "Toy Story" and "The Incredibles!"
From the info released by Disney and the first reviews and sneak peeks we've seen online, the experience reminds us of the Oceaneer Clubs on Disney Cruise Line. Different themed areas are available and allow kids to choose whether they want to partake in the guided fun by characters and cast members, or enjoy free play on their own.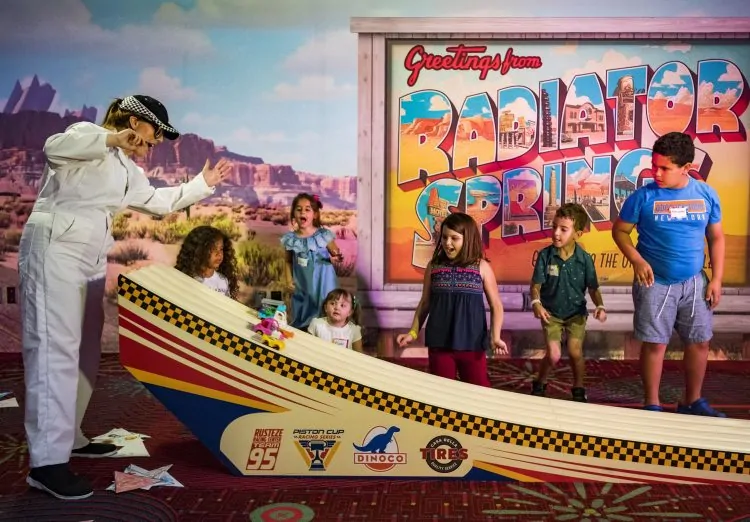 There is a Living Room, which appears to be where much of the character interaction takes place, with Space Ranger training and a Woody's Round-Up sing-a-long. A Radiator Springs Racetrack area includes Duplo blocks for building cars and racing them. The night concludes with an Incredibles Super Dance Party. Characters make appearances throughout the night to join in on the fun!
Kids can also play on their own with an assortment of toys in Bonnie's Playroom or the games in the Arcade. We've heard there are crafts, coloring pages, and games for the kids, as well.
Dinner and Dessert
One of the great things about dropping your kids off for the evening at the Pixar Play Zone is that food is provided. Here is the dinner menu we've seen from the first weekend:
Appetizer (choose one)
Chopped Salad – Carrots, Cucumbers and Ranch Dressing
Veggie Dippers – Baby Carrots, Broccoli, Cherry Tomatoes, Celery, and Ranch Dressing
Entree (choose one)
Mini Flatbread Pizza
Cheese
Pepperoni
Meat Lovers (bacon, sausage, and pepperoni)
Veggie
Cheeseburger
Dessert (choose one)
Kids Themed Cupcake
Chocolate Chip Cookies
Drinks (choose one)
Apple Juice
Milk
Chocolate Milk
Bottled Water
Snack (choose one)
Rice Krispies Treats
Popcorn
Goldfish Crackers
We haven't read anything about allergies or dietary needs, but Walt Disney World has a great reputation for working with guests when notified of these situations.
Make it a Date Night
The location of Pixar Play Zone on the 4th floor of Disney's Contemporary Resort makes it a great location for dropping off the kids and having some adult time. Several of Disney's best restaurants and lounges are located in the resort or just a monorail or boat ride away. We could totally see recreating our Wilderness Lodge Date Night from a couple of years ago by utilizing the Pixar Play Zone as opposed to the soon-to-be-closed children's activity centers.
Depending on the time of the Magic Kingdom fireworks, you could enjoy them before picking up the kids, or right after from the balcony.
Know Before You Go
Programming will run from 6-10:30 p.m. for a fee of $65 per child (plus tax). Registration will open at 5pm. A valid credit card is required to secure your reservation and will be charged if you fail to cancel at least 24 hours in advance. Children must be fully toilet-trained. Parents will be required to be physically present to check children in and out of the experience.
Availability is limited and reservations are strongly recommended. Guests can reserve their spot at Pixar Play Zone by calling 407-824-KIDS.