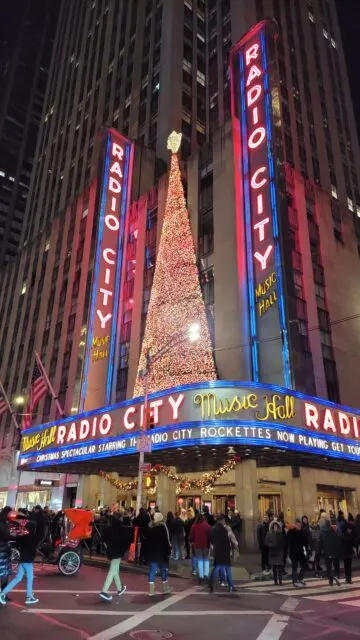 When does the holiday season start in New York City? Some will say that it isn't Christmas until Santa Claus rides down 6th Avenue to cap off the Macy's Thanksgiving Day Parade. Others will tell you that it's when they light the Rockefeller Christmas Tree. But if you ask me, it's actually the Radio City Rockettes that kick off the holidays in the Big Apple.
With the exception of 2020, the Radio City Christmas Spectacular has ushered in the holiday season every year. It has been an iconic part of the New York City Christmas experience since 1933, thrilling nearly 70 million people.
It simply isn't Christmas in New York without the Radio City Christmas Spectactular.
What Makes The Christmas Spectacular so Spectacular?
The 90-minute show truly has something for the whole family to enjoy, and it keeps evolving and improving year after year. Here are a few things we love about the Radio City Christmas Spectacular:
The Rockettes
The stars of the show. These legendary ladies put in months of rehearsal to dazzle audiences with their precision and poise. While the show changes from one year to the next, you can bet on the Rockettes to make up a huge part of it. They typically have around 9 different acts, each with different costumes. They wear microphones on their shoes so every tap is heard throughout the hall. It is estimated that each Rockette performs over 160 high kicks in each show!
The Special Effects
The show would still be amazing if it were simply done on a stage with a curtain and basic backdrops. But Radio City has implemented tons of high-tech special touches that really surprise and amaze audiences! The last time we saw the show in person, we were wowed by the projection mapping on the walls and ceilings, and drones that flew up and out over the audience!
This year's show features a new number called the dance of the frost fairies. Drones with fairy wings will take flight out over the audience while the Rockettes dazzle on stage.
The Live Nativity Scene
In contrast to the high-tech aspect of the show, one of the scenes has remained very old-fashioned year after year. At the end of the show, live animals are brought out on stage to bring the Live Nativity scene to life. It is truly a wonder to behold.
You don't have to be a devout person to appreciate the scope of creating this scene, complete with actual camels and livestock, on stage in front of a live audience.
The Venue
The venue itself is unbelievable. It is the largest indoor theater in the world, taking up an entire city block! Radio City Music Hall has hosted some of the greatest artists and performers in the world over the last century. Its architecture is both ornate and functional, as the acoustics and sight lines in the theater are impeccable.
Take time to walk around and see the various exhibits placed on the different floors of the theater.
The Location
Radio City Music Hall is located in Rockefeller Center, which places it just steps away from other Holiday sights like the Rockefeller Christmas tree and ice skating rink, the Saks Fifth Ave window display and light show, 6th Avenue holiday decorations, and more.
There are also several sit-down restaurants and fast food options within walking distance. And of course, lots of places to shop!
Radio City Christmas Spectacular Show Dates
There are 150 shows scheduled for the 2022 holiday season from Friday, November 18th, 2022 to January 2nd, 2023. On any given day in December, you can choose from up to five shows to attend, starting as early as 10am and starting as late as 10pm, depending on the day.
Of those 150 shows, five have been designated as alternative format performances.
Sign Language: (Interpreters translate spoken word into ASL)
Saturday, November 19, 2022, at 11:00 AM
Sunday, December 11, 2022, at 5:00 PM
Wednesday, December 14, 2022, at 11:00 AM
For tickets or additional information, contact: Hands on, Inc. Voice at 212-740-3087 or by emailing [email protected]
Open Captioned: (text-based assistance to spoken word via a large LED signboard to side of stage)
Wednesday, December 7, 2022, at 5:00 PM
For tickets or more information, contact: Theater Development Fund at 212-912-9770 or by emailing [email protected]
Audio Description (a live audio description of the performance via headsets)
Thursday, December 15, 2022, at 5:00 PM
For tickets or more information, contact: Theater Development Fund at 212-912-9770 or by emailing [email protected]
How to Get Tickets
Tickets can be purchased online at Rockettes.com or at the box office at Radio City Music Hall.
Box Office Hours: Monday through Saturday from 10:00 a.m. to 8:00 p.m., and Sunday from 10:00 a.m. to 6:00 p.m. *On days with shows before 11am, the box office opens 90 minutes before the first scheduled show. The box office also stays open until 30 minutes after the last scheduled show of the day starts.
Online ticket purchases are processed through ticketmaster, though the site itself allows you to browse a calendar to see show dates and times, and then see available seats and prices, which is nice.
Know Before You Go
The Radio City Christmas Spectacular is a 90-minute show with no intermission.
Parts of the show feature special effects such as confetti, pyrotechnics, smoke effects, flashing lights & drones.
Guests with sensory needs may borrow a resources such as weighted lap blankets, noise-canceling headphones, fidget tools by leaving their ID at the Guest Services Desk in the Grand Foyer.
You should plan to arrive at least 1 hour before show time to allow for security screening.
There is no bag check, so pack lightly. Oversized bags (larger than 22" x 14" x 9") are not permitted, and all bags are subject to inspection.
There are 3 entrances. The main entrance on 6th Ave is wheelchair accessible and is also best for rear orchestra access. The 50th street entrance is best for the front Orchestra seating. The 51st street entrance is best for all mezzanine levels.
Radio City Music Hall is 1 mile from Penn Station (20 minute walk) and .8 miles from Grand Central Station (15 minute walk). Nearest Subway access are the B/D/F/M at 47-50th Street & 6th Avenue, and the 1 local train at 50 st. & Broadway.
Strollers are permitted. The ushers in your seating area can check your stroller for free.
There is no re-entry. All exits are final.
Outside food and beverages are not permitted. Empty reusable water bottles can be brought it and then filled at the water fountains inside. (food and beverage options are available for purchase inside)