A road trip with kids can be a whole lot of fun or completely overwhelming. The combination of bored kids and way too many miles to go can be a recipe for disaster. Save your sanity and make your road trip a more pleasant experience. A collection of road trip activities, games and printables will keep the kids entertained and occupied. Most of these ideas are grab and go or take little preparation. Bring them along on your next road trip. You'll be thanking me for them!
Activities
Let's find something to do while we're waiting. These take along activities are perfect for the car and even when you reach your destination.
Ocean Felt Busy Box https://www.teach-me-mommy.com/ocean-felt-busy-box/
Portable Lego Kit https://mamapapabubba.com/2014/06/11/portable-lego-kit-for-little-travellers/
Take Along Activity Kit https://mamapapabubba.com/2017/03/09/take-along-activity-kit/
40 Free Printable Activities https://www.kcedventures.com/blog/40-free-printable-road-trip-activities
Activity Pack https://www.totschooling.net/2016/04/road-trip-printables-travel-kids.html
Countdown Games
Quell the "Are We There Yets" with these visual countdown ideas. I'm definitely taking these along on our next road trip.
Visor Clips https://www.thismamaloves.com/summer-road-trip-travel-games-and-ideas-visor-clips/
Are We There Yet Travel Countdown https://jdaniel4smom.com/2014/11/are-we-there-yet-travel-countdown-kids.html
Games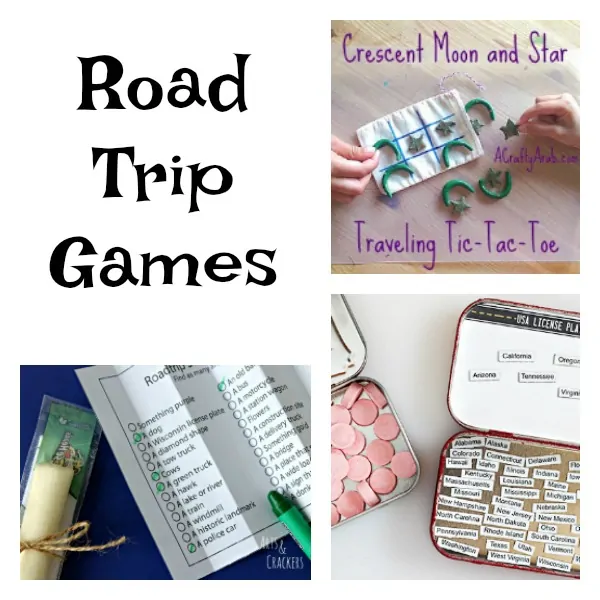 Many of these games take little to no preparation. They're fun for kids of all ages (and adults too).
String Cheese Scavenger Hunt https://artscrackers.com/2016/02/24/enjoy-travel-and-make-memories-with-these-games/
Ultimate Road Trip Game https://travelingfamilyblog.com/ultimate-road-trip-game/
DIY Mini License Plate Game https://travelingfamilyblog.com/in-line-at-disney-coloring-sheets/
Licence Plate Game https://www.kcedventures.com/blog/family-car-trips-car-games-to-play-with-kids-license-plate-game
Yellow Car Game https://adventuresandplay.com/yellow-car-game-busy-bag/
Traveling Tic Tac Toe Game https://acraftyarab.com/2015/06/crescent-moon-and-star-traveling-tic-tac-toe-tutorial/
Are We There Yet Map Game https://growingbookbybook.com/car-trip-games-yet-maps/
Games to Play in the Car https://www.schoolingamonkey.com/games-to-play-in-the-car/
Printables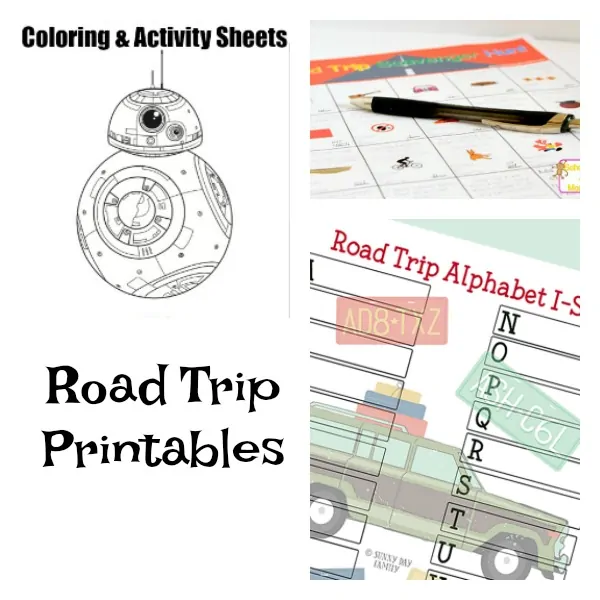 There are a ton of printables here! Download a bunch and put them into individual binders. I slip each page into sheet protectors so each sheet can be used over and over again.
Dry Erase Activity Book https://gluesticksgumdrops.com/road-trip-activity-book/
Printable Travel Journal (plus links to more) https://embarkonthejourney.com/printable-travel-journal-kids/
Free Travel Printables for Kids https://encouragingmomsathome.com/free-travel-printables-kids/
Disney Coloring Sheets https://travelingfamilyblog.com/in-line-at-disney-coloring-sheets/
I Spy Printable https://www.sunnydayfamily.com/2016/06/road-trip-i-spy-printable.html
Bingo Printable https://twitchetts.com/2016/04/free-road-trip-bingo-printable.html/
Ultimate Road Trip Kit
We keep all of our activities, games and printables in our Ultimate Road Trip Kit. I used this great carrier from Diono to keep everything nice, neat and organized. (affiltate link)
Love Road Trips? Check out our Road Trippin' with Kids Board on Pinterest.

Pin this for later