It's Marathon Weekend at Walt Disney World, and among the thousands of runners descending upon the resort are these two under-prepared, and somewhat nervous newbies to the experience!
Last year at this time, we had no idea that right now we'd be days away from boarding our flight down to Orlando to partake in this annual event. How did we get to this point? Well…
James
I got swept up in all the hype over Marathon Weekend last year because I actually knew a few Dis Dads that were running. It turned into a Dis Dads Convention, full of bacon and Dole Whips and lots of fun. If there was going to be another one, I wanted in!
It's not easy for us to vacation in January, given that Lisa is a teacher, but when I proposed going, she was intrigued at going to Disney near her birthday, and she told me "If you run, we can go." I took that as permission to start training and booked our room for the weekend.
In March, I ran my first official race, a charity 5K race in honor of the families of Sandy Hook Elementary School in Newtown, CT.
It was a great experience. It was a milestone in my training for runDisney, it was for a great cause, and I got to meet several great guys from the Dis Dads who also attended.
Unfortunately, my knee gave out on the final stretch and I would need to have surgery the following month.
During my recovery, registration opened for Marathon Weekend. I lowered my aspirations and set my sights on the Half Marathon. We wanted to also sign the whole family up for the Family Fun 5k, but with no more stroller division, it wasn't feasible. Lisa still signed up for the 5K, and we signed Jackson up for the 100 meter dash and Bella for the Mickey Mile.
By the summer, I had recovered from my surgery, and was ready to resume my training after we returned from our Disney vacation.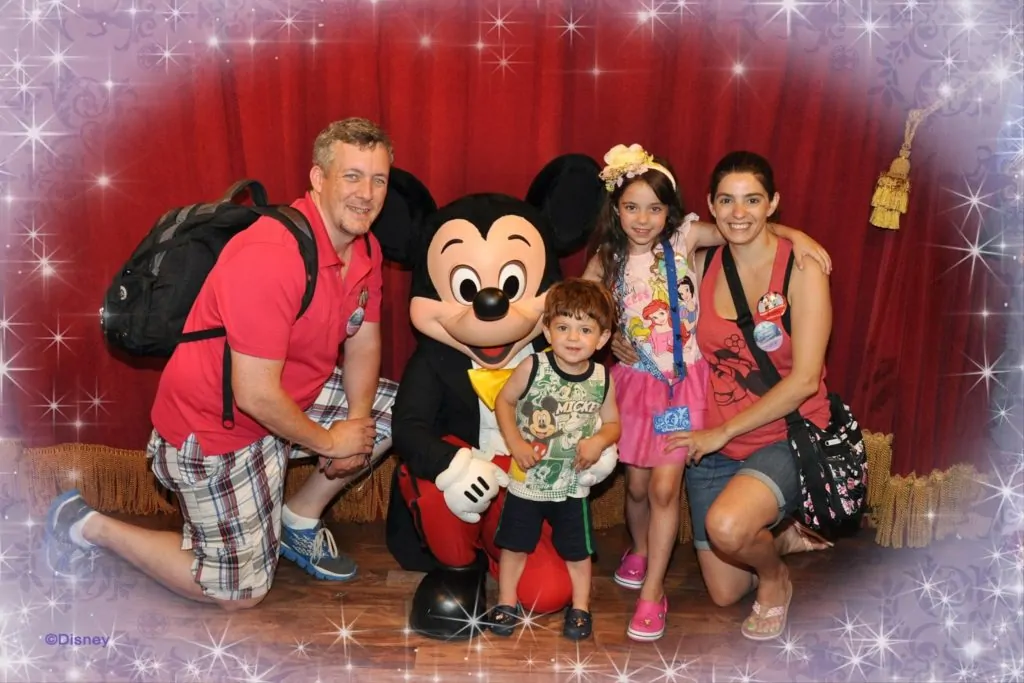 Our 2013 trip to Disney!!
In August, my knee said no to running and swelled up again… I would need a second surgery in October, and 8 more weeks to recover. The second surgery also found that my knee would never be 100%, and that I'd have to manage the pain and discomfort going forward.
recovering from knee surgery #2
In that respect, getting older stinks!
I haven't been able to train as much as I wanted, and now my goal is simply to cross the finish line. I'll be doing more of a mix of running and walking as opposed to the original plan of running the whole race. I can't help but be concerned about how my knee will hold up. The longest run/walk I've managed up to this point has been 8.5 miles.
Lisa
The fact that the whole family could not run together in the 5K was definitely a blow to Lisa's spirits, but she still committed herself and impressed me by getting out there and running. Unlike me, she doesn't have a history of competing in sports, so she is totally brand new to the concept.
I think my setbacks have understandably also affected her motivation and it's been more difficult to find time in a busy schedule and the colder weather to keep at it.
But I think the biggest obstacle for Lisa is herself. I get the sense from her that she doesn't think she fits in, that she's not a "runner". But I think that's why runDisney is such a perfect fit for her. It's not about whether or not she can physically do it. She proved that by getting out there and running around our neighborhood.
I hope she'll see that running brings together people from all walks of life, in all shapes and sizes and abilities. I hope the magic of running in Disney will ease her doubts, and she won't feel so alone out there.
I know she'd feel better if we could have done it together, but Bella, Jackson, and I will be there to cheer her on, and I know you will all be cheering her on too!
How will we do?
Well, you'll have to stay tuned for that. It will be a short, but very unique trip for us. We've got our runs and plans to celebrate both Bella and Lisa's birthdays while we're there! Be sure to follow along on twitter, facebook, and instagram! It should be a magical weekend… And hopefully we'll all come back with some bling to show off!
Have any of you ever run at Disney event?? We'd love to hear about it!! Leave your stories, tips and words of encouragement in the comments!!

Thanks for stopping by!