We were sent a complimentary collection of Disney Music CDs by as part of Entertainment New Media Network. Giveaway is sponsored through the network by Home is Where the Mouse is with prizes provided by Walt Disney Records. The opinions here are our own.
---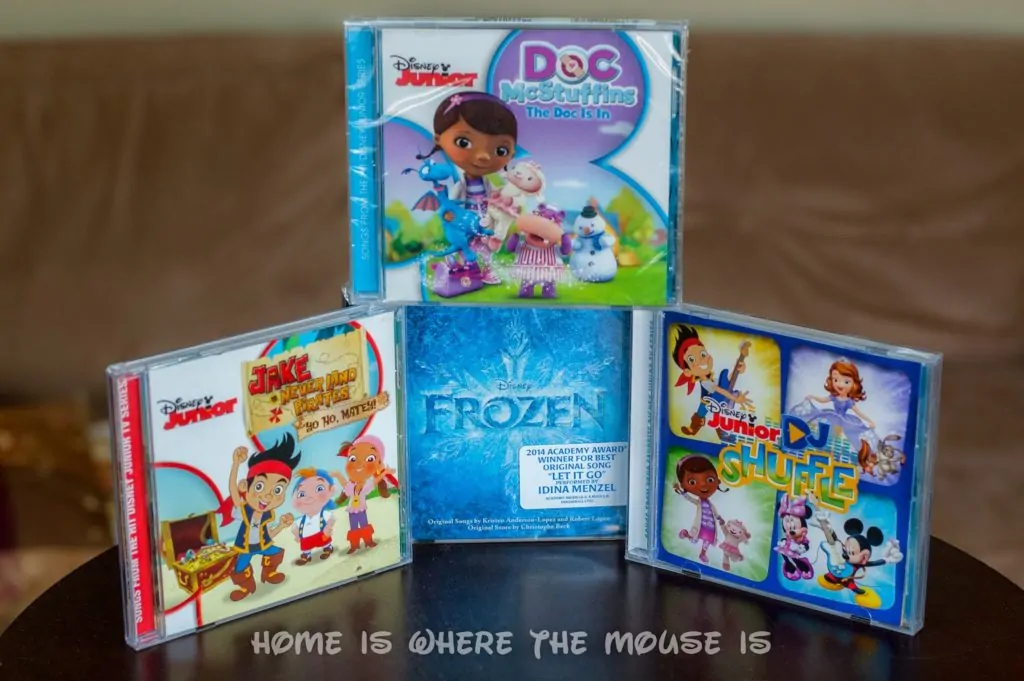 Disney has always been known for it's quality movies and shows, but their music is just as good. We were recently given a set of CDs from Walt Disney Records to review.
The set we received was the preschool pack of music. It included:
Doc McStuffins- The Doc Is In
DJ Shuffle
Jake and the Never Land Pirates / Yo Ho Matey
Frozen
From the moment we brought these into the house, our kids have been playing them non-stop. They've been having a ball rocking out to some of their favorite songs. We asked them to help us with this review since this is the music they like to listen to. Here's what we thought.
Doc McStuffins- The Doc Is In
The Doc is in with a compilation of her favorite songs from the hit show. Not only are the songs catchy, but they help your little ones learn lessons to keep them safe and healthy.
Favorite Tracks:
Time for Your Check Up- Great song to play before a doctor's appointment.
Bop,Bop,Bop– Fun song to get up and dance to
You're Gonna Grow– Good song to help teach kids to never give up
DJ Shuffle

Have a party in your living room with this fun CD. This musical montage is full of your favorite Disney Junior favorites. From old favorites like Hot Dog! from Mickey Mouse Clubhouse to new favorites like Blue Ribbon Bunny from Sophia the First, it will have you and your little ones dancing up a storm.
Favorite Tracks:
DJ Shuffle– This was Jackson's favorite and my new favorite song! It's so much fun to listen to. Did you know there's also a dance? Check out this clip from the official Disney Junior YouTube page.
Theme to Henry Hugglemonster– Jackson loves this show and requested to hear this track.
Roll Up the Map– You have to love a good participation song! We love dancing along to this when we visit the Disney Junior Play and Dine at Hollywood Studios.
Hot Dog!– A family classic that never grows old!
Jake and the Never Land Pirates- Yo Ho Matey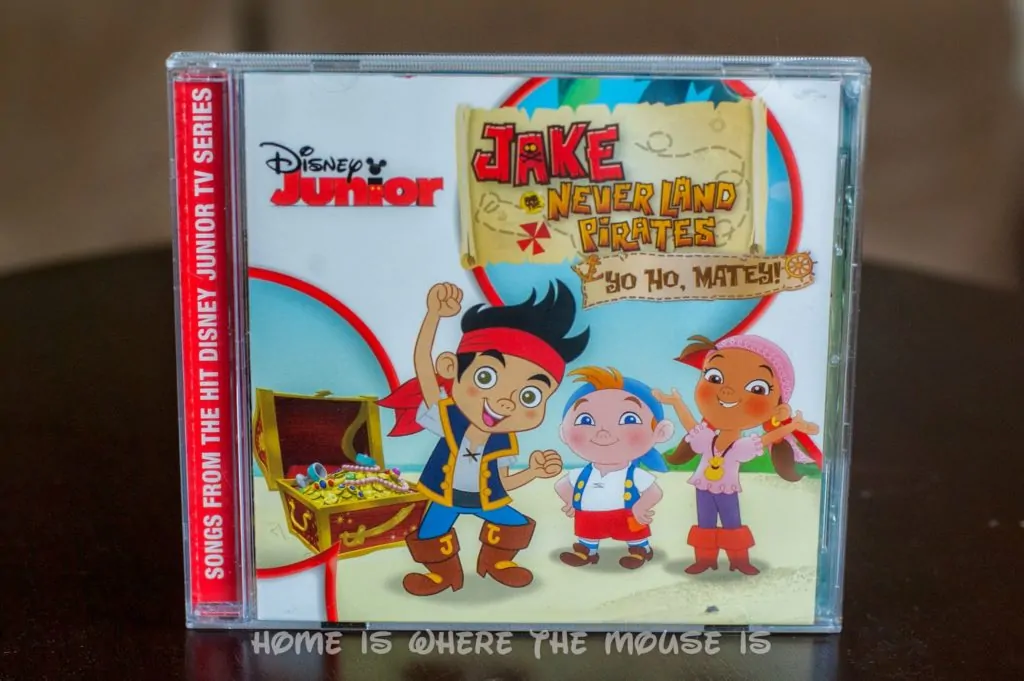 Ahoy mateys! Do you want to get down with Jake and his Pirate Crew? Well, Yo Ho, let's go! This CD is a fun frolic to Never Land thanks to pirates Sharky and Bones. It includes most of your favorites from the hit show (I was disappointed Roll Up the Map wasn't there), plus some new tunes. This would be a great soundtrack for any pirate or beach party.

Favorite Tracks:
Bubbly Blue- Sandy the Starfish accompanies Sharky and Bones on this ode to the big old blue.
Tiki Tree Limbo- This was Bella's choice for favorite song from this CD.
Yo Ho Mateys (Ship Hop) Away- Fun Hip Hop spin on the well known song
Belay- The kids love getting up to dance to this one.
Frozen:
We admit, we bought this soundtrack back in December and it's been on repeat ever since. It's been a long time since a movie soundtrack has touched us like the Frozen soundtrack has. The Broadway-esque tunes mixed with the instrumental score makes this a CD worth listening to over and over again.
Favorite Tracks:
Let it Go- Idina Menzel– While most moms are done with Let it Go, this mom can listen to it even without the kids around. The message of being yourself no matter what people think resonates with as many adults as it does children.
Do You Want to Build a Snowman– Touching track about sisters dealing with isolation and loss.
In Summer- After the winter we've had, many of us feel Olaf's pain. This tribute to all things warm was the perfect comic relief in the middle of the movie.
All in all, we had a great time reviewing these CDs. While they were labeled a preschool pack, they were equally loved by our school-aged daughter. They will make a great soundtrack for our upcoming road trip this summer!
Did you like what you read? How about owning a set of your very own?
Win a set of Walt Disney Records CDs! We've partnered with Walt Disney Records to giveaway 2 sets of Disney CDs, one for preschoolers and one for tweens. Enter to win both, or just one set! Use the Rafflecopter widgets below!
Disney Preschool CD Set Giveaway
Disney Tween CD Set Giveaway