If you are in New York City during Springtime, then a visit to the New York Botanical Garden should be on your to-do list.
Spring at the New York Botanical Garden is nothing less than inspiring. And there is no shortage of beauty to be seen. Here are 10 reasons to visit NYBG in the Spring.
New York Botanical Garden
Established in 1891, the New York Botanical Garden is the largest of its kind to be found in any city of the United States. Its 250 acres are a living museum of exhibits all-year-round. The NYBG's mission is not just to preserve these plants, but to research and educate all who visit, so they can better care for our planet.
It's great for families to visit together to relax, play, enjoy the views, or to even learn a few things.
10 Things to See During Spring at the New York Botanical Garden
Spring is the most active season of the year. With so many animals returning or awakening, and so many plants blooming, there is something different to see from day to day at the NYBG.
So pack up the family, bring a lunch or snack to enjoy in the picnic pavilion, wear comfortable walking shoes, and bring your camera to enjoy these ten must-see things during Spring at the New York Botanical Garden.
1. Children's Adventure Garden
For families with children, the Everett Children's Adventure Garden is a NYBG must-do on every visit, no matter the season.
In spring, "Budding Botanists" can explore the garden and participate in hands-on activities to discover how plants grow and change. Our kids even made their own buttons to show why they love the Earth and what they'll do to help it.
2. Hundreds of Thousands of Daffodils
On our visit, the most striking moment came as we rounded a bend and got our first glimpse of the field of daffodils on Daffodil Hill. There was even a marked path to walk through and have them all around us.
The NYBG's Daffodils were at 85% peak bloom when we saw them. I'm not sure how many they have right at the moment, but they have been planting up to 150,000 each year with the goal of reaching one million daffodils!
Daffodils typically bloom March – May.
3. Cherry Blossoms
We've always wanted to see Cherry Blossoms at peak bloom, and while it looked like some of the NYBG's trees may have been past their peak, a few were blossoming pink and white along the path.
The NYBG has different varieties of sakura, and the branches on the trees hang low enough that you can get great photos and see the blossoms up close!
Cherry Blossom trees don't bloom for long, so we felt fortunate to have caught them at the right time! Here is the New York Botanical Garden's Cherry Blossom Tracker.
4. Bronx River Waterfall
There are several places to view the Bronx River as it makes its way through the New York Botanical Garden. One popular overlook is near a natural waterfall.
With all the spring rains, the river was flowing well and the waterfall was quite a sight during our visit.
5. The Smell of Lilacs
Lilacs are Lisa's favorite flower. So we had to make sure we stopped by to see them, even if it was a little early in the season for them. The Lilac-lined path is full of fragrance even with only the Lilacs only being at 20% of their peak bloom.
We can only imagine what it must look and smell like when the Lilacs are at their peak!
6. Show-Stopping Orchids
For 17 years, the New York Botanical Garden has put on an Orchid Show. This year's show pays tribute to Singapore. The NYBG constructed "supertrees" of Orchids and plants to honor the "City in a Garden", as it is known.
The Orchids are stunning, and the Haupt Conservatory is huge. We moved from room to room, amazed by everything we saw, but at the same time wondering if it would ever end. Fittingly, the tour starts and ends with the incredible orchid displays.
7. Magnolias in Bloom
Another flowering tree that heralds the coming of Spring is the Magnolia. The New York Botanical Garden's collection of Magnolia trees bloom from March through April, making for a picturesque stroll down "Magnolia Way".
8. Azalea Garden
We have not visited the New York Botanical Garden for Mother's Day, but their website claims that the Azalea garden is "one of the most striking seasonal spectacles." Unfortunately, the Azaleas were only at 20% peak for us.
The garden itself makes for a dramatic stroll atop the rock formations in the NYBG. We made a mental note to revisit to check it out.
9. Rock Garden
Speaking of rocks, in Spring the Rock Garden re-opens and begins to bloom with splashes of color in its nooks and crannies to create a wonderful setting to explore and relax.
This is another section of the NYBG that eluded us on our visit.
10. Edible Academy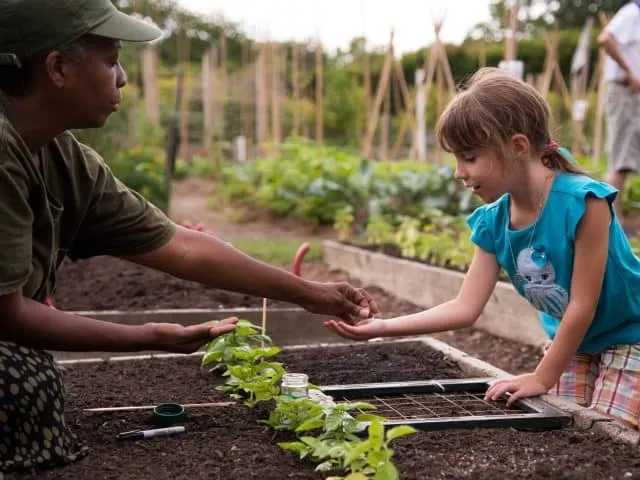 The New York Botanical Garden's Edible Academy is dedicated to educating kids about healthier lifestyles and connecting them with nature.
So what better time to visit than Spring to get hands-on experience with starting a garden! The academy's "Dig! Plant! Grow! Wake Up, Garden!" experience runs on select days from April through mid-May.
Even if you can't visit during Spring, the academy is open year-round with all sorts of programs and special weekends.
Bonus: Spotting Wildlife
It's easy to get so caught up in the beauty of the various plants at the New York Botanical Garden that you forget that many animals and insects call the NYBG home, as well.
So keep your eyes open for birds, insects, fish, and reptiles as you explore the grounds!
Know Before You Go
The New York Botanical Garden is open year-round, Tuesday to Sunday, and select holiday Mondays.
Hours are typically 10 a.m.–6 p.m.
Weekend All-Garden Pass is $28 for adults, $25 for Seniors/Students, and $12 for children 2-12. (under 2 years old free)
Weekday All-Garden Pass is $23 for adults, $20 for Seniors/Students, and $10 for children 2-12. (under 2 years old free)
A discounted Grounds-Only pass is available to NYC residents.
Grounds-Only Admission is free to all guests, all day Wednesdays, and 9 – 10 am on Saturdays.
NYBG has a cafe and restaurant as dining options. Food trucks may be available seasonally.
Outside food can be brought in (no alcohol) and you can only picnic at the designated pavilion.