Today we are sharing Disney inspired Halloween costumes.
---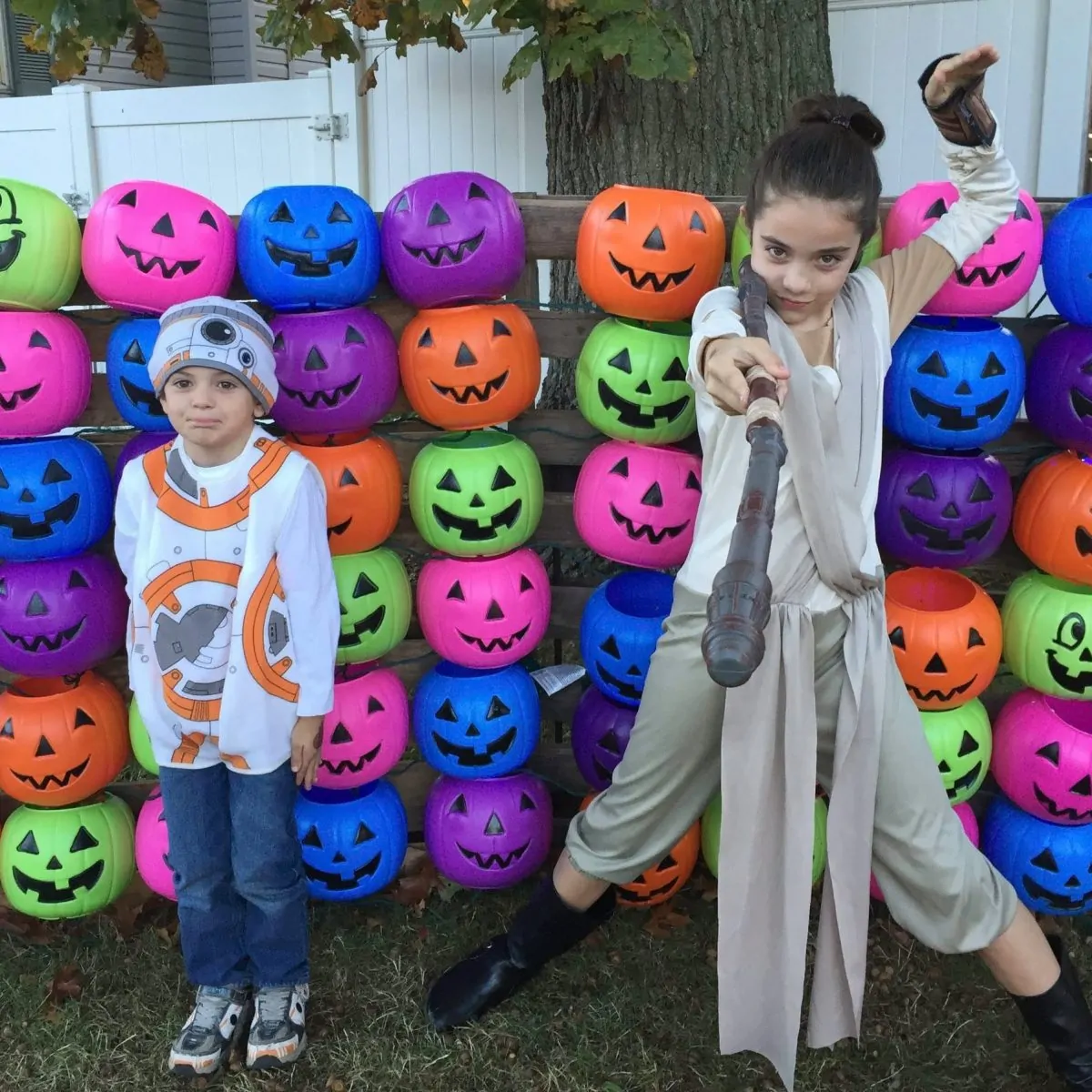 We've made Halloween a family affair over the years by dressing up using a single theme. This year, we're using The Force! Here are some Star Wars Costume ideas that get the whole family involved in the fun!
Star Wars Costume Ideas
The "Galaxy Far, Far Away" is such a great source of ideas for family costumes because it includes so many great characters. This allows for you and your family to mix and match costumes to fit your personalities. With so many characters to choose from, the ideas are endless.
Here are some examples using our family of four on ways we can go to give you ideas:
The Force Awakens:
James – Han Solo or Kylo Ren
Lisa – General Leia
Bella – Rey
Jackson – BB8
Original Trilogy
James – Luke Skywalker or Vader
Lisa – Princess Leia
Bella – R2D2
Jackson – C-3P0
Prequels
James – Young Obi-Wan Kenobi or Darth Maul
Lisa – Queen Amidala
Bella – Padme
Jackson – Podracer Anakin
Jabba's Palace
James – Han Solo in Carbonite
Lisa – Slave Leia
Bella – Boba Fett
Jackson – Jedi Luke Skywalker
Endor Mission
James – Han Solo
Lisa – Leia
Bella & Jackson – Ewoks
Dressing up as a Star Wars character doesn't require being a movie makeup or special effects artist. In fact, there are options for any budget and skill level.
Store-Bought Star Wars Costumes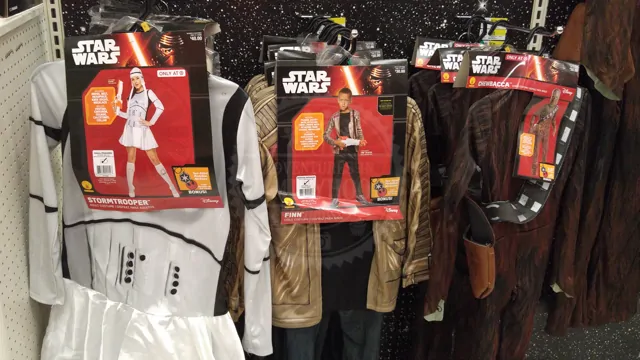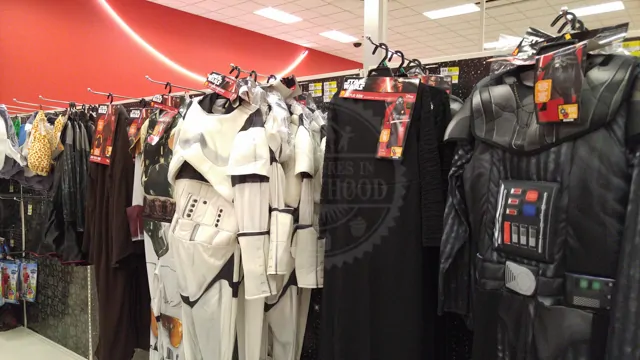 This is the easiest way to go. Buying a costume that's already put together for you certainly saves a lot of hassle. Typically, these costumes can be found in simple styles and "deluxe" styles that are more expensive. As Star Wars has regained popularity in the last year or so, more and more characters are available at the discount stores as well as your seasonal Halloween shops. These are some of our go-to places to look for store-bought costumes.
In addition to these full costumes, you could also go with Star Wars attire that isn't necessarily a costume and pair that with accessories. At the Disney Store, Jackson modeled some hoodies and a Finn Jacket that can be worn anytime of the year as well as part of a costume.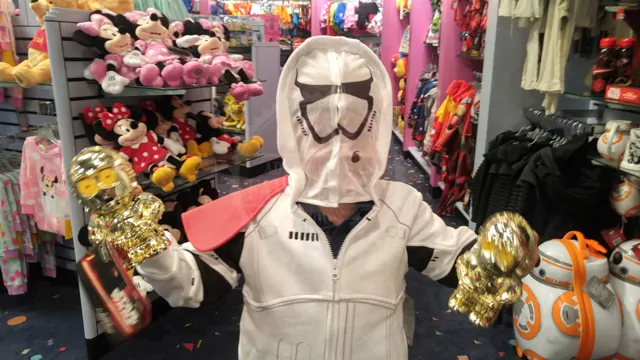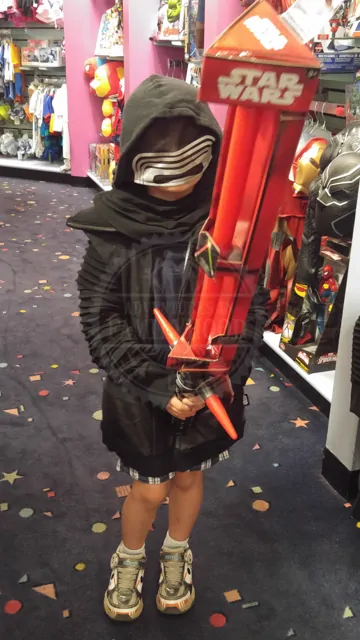 For the Star Wars runDisney weekend at Walt Disney World, I got into the spirit of the races with a mix of running gear and some Star Wars apparel.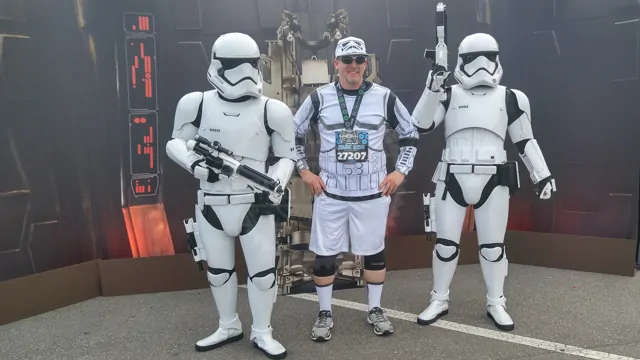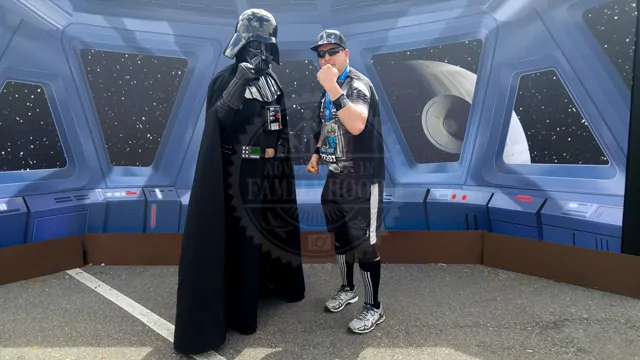 DIY Star Wars Costume Ideas
If you're looking for a character that's a little less popular, or for a specific outfit that was worn by one of the main characters, you might have to resort to getting crafty. If you've got some skills or imagination, there are plenty of ways to do-it-yourself when it comes to Star Wars costume ideas.
DIY Star Wars Looks
Luke – Cream or White bathrobe, brown belt, khaki pants, homemade lightsaber
Leia – White shirt with long sleeves and optional turtleneck, white skirt, white belt, and leia hair buns
Han – Long Sleeve white or beige shirt, black vest, dark (black or blue) pants. Add red pin stripe to pants, add holster or belt.
Vader – Black shirt, pants, gloves, and cape. Just add a store-bought mask to complete the look. Add a "Pool Noodle" Lightsaber as a safe accessory!
Yoda – Cream bathrobe, brown turtleneck, green paint for face & hands, lightsaber. You could add a store-bought yoda mask in place of green paint. Pointy ears are great too!
Obi-Wan – Brown robe and brown undershirt with cream robe or open shirt between those layers. hood is optional
R2D2 – Go with and all white outfit and embellish with paint markers or by adding fabric accents to create the look. Top off with a beanie.
C3P0 – All gold and shiny.
There's no shortage of inspiration to be found on the Internet. Star Wars cosplay has been big for years, and if you look hard enough, you can find examples of just about any character out there.
Disneybounding
Disneybounding is a great way to dress up without going full costume. This is great way for parents to get in on the fun and coordinate with the kids. Here's the Disneybound "look" for Rey from The Force Awakens.
With a wealth of characters at your disposal, plus the different ways you have to put it all together, Star Wars certainly is a great inspiration for dressing up as a family this Halloween!
What Star Wars characters would your family dress up as?
For more Disney inspired Halloween costumes,
check out the other great posts from our friends!
---