There has been an awakening. Have you felt it?
The day I was anticipating for the last 3 years finally arrived and I was NOT one of the people who went to see Star Wars Episode VII, The Force Awakens on opening night.
Trust me, I wanted to be. I wanted to be one of the first. I just couldn't.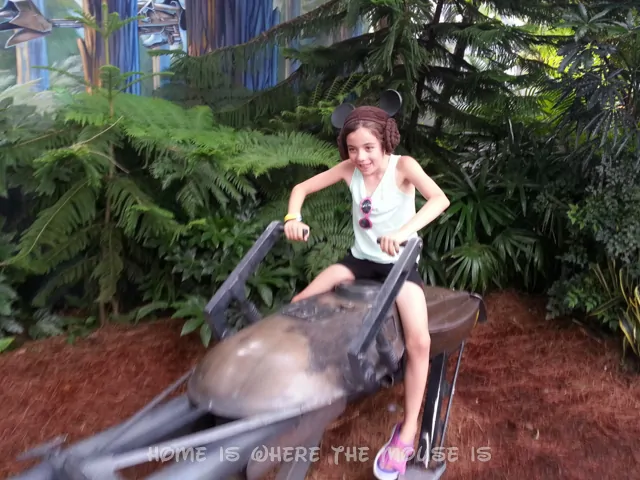 Bella Poses on the Speeder Bike at Disney's Hollywood Studios Theme Park.
I couldn't because my 8-year-old daughter wants to see it as badly as I do. That's not something I would have imagined a year ago. But now, seeing it with her is now more important than simply seeing it. So the Force will have to wait until we can see it as a family.
I always assumed that Jackson would be more into Star Wars than Bella. I figured the spaceships, lightsabers, aliens, and special effects would draw him in. Perhaps that's sexist. Or perhaps it's because in our family dynamic up to this point, Jackson seems to be more like me and Bella is so much like her mom. So far, he's shown a passing interest in Star Wars, but it's growing slowly.
Princess Bel-leia.
On the other hand, Bella has become a Star Wars fan. On our summer trip to Walt Disney World, one of the things she most wanted to do was be a part of the Jedi Training Academy.
Bella with Darth Vader and Stormtroopers after Jedi Training Academy rainout
Our first attempt was rained out and resulted in a photo op with Darth Vader.
Padawan Bella battles the Dark Side at the Jedi Training Academy
We were fortunate to get a second chance so she could get the full experience.
She's been full of questions about the movies since then, and we finally made some time to watch the original trilogy together to gear up for The Force Awakens.
Bella watching the movie that started it all.
Darth Vader makes first appearance in Star Wars Episode IV: A New Hope
She had such a different perspective than my first time. It's hard to believe that the twists and turns that I grew up with are now common knowledge. She knew all the secrets, and I thought that would ruin everything. But she was still into it despite knowing pretty much what was going to happen. She wanted to see how it all played out.
There were many questions along the way. Some were funny, like her asking if Han parked the Millennium Falcon on the back of the Star Destroyer so they could use the Empire's WiFi. But most of the questions were about the relationships between the characters.
She's invested in the characters because that is what makes the story. She loves to read, and I think that plays a big part in her appreciation of story and plot. That's the biggest reason the original trilogy struck a chord in multiple generations of fans. It's the reason I have hope for the new movies to come.
Bella ready to feel the Force!
The Force Awakens is a perfect title for Episode VII. I get the sense that this movie is about handing down the saga to a whole new generation, both within the galaxy far, far away and right here in the Milky Way. It's a new story in the world I grew up loving. In a lot of ways, bringing my children to their first Star Wars movie will be like taking them to Walt Disney World for the first time and rediscovering it through their eyes.
I can't wait.