Welcome to this month's Blogorail Teal loop. Today we are sharing some of our favorite summer recipes.
For our family, summertime means fresh food made with flavorful seasonal ingredients. We're sharing a way to take one of our favorite summer foods, watermelon, to a whole new level. This recipe for Watermelon Salad from Epcot's Flower and Garden Festival, is the perfect lunch for hot summer days!
Farmer's Market Selfie
Something the kids and I like to do on Sundays during the summer is go to our local farmer's market. I love checking out the freshest local ingredients hoping they'll inspire me to make something yummy.
Jackson checking out the fresh produce.
The kids, well, they just love going to sample. I don't mind that much since it's a great opportunity for them to try new foods.
Bella samples the flavored olive oils. Garlic was her favorite.
This week was the reopening of our farmer's market. It's been a cold and rainy spring here in the northeast, so I wasn't expecting much. Fortunately, I was lucky enough to score a bundle of fresh arugula. While my kids were sampling (again) the olive oils, I noticed a bottle of white balsamic vinegar. Both ingredients are perfect for the salad recipe I'm about to share.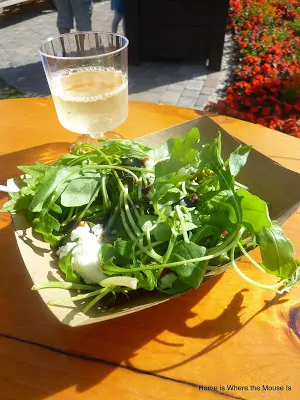 Original from Epcot International Flower and Garden Festival
Last March, James and I visited the Epcot International Flower and Garden Festival. By far the standout dish, for me was the Watermelon Salad with Pickled Onions, Baby Arugula, Feta Cheese and a Balsamic Reduction from Florida Fresh. I loved this salad. It was so refreshing after all of the food we had eaten that day. The combination of the sweet watermelon, spicy arugula and tart feta really hit the spot.
I decided to put my own spin on the salad to make it more kid friendly. I opted to leave out the pickled onions in my at home version. Here's how I did it.
Watermelon Salad with Arugula and Feta
Adapted from Watermelon Salad from A Taste of Epcot cookbook
Ingredients:
For the Salad:
4 cups cubed seedless watermelon
3 cups baby arugula
1/4 cup white balsamic vinaigrette (see below)
black pepper, to taste
1/2 cup crumbled feta cheese
1/4 cup balsamic glaze ( found in the oil and vinegar isle)
For the Vinaigrette:
1/4 cup white balsamic vinegar
3 tablespoons finely diced shallots
2 tablespoons roasted garlic
2 tablespoons honey
1 tablespoon lemon juice
1 cup extra virgin olive oil
salt and pepper to taste
Directions:
For Balsamic Vinaigrette:
1. Combine first 5 ingredients in a blender until well combined.
2. With blender running, slowly drizzle in olive oil. Blend until thickened. Season with salt and pepper to taste
For watermelon salad:
1. Divide watermelon among 4 plates. Toss arugula with vinaigrette and season with salt and pepper.
Delicious and refreshing, this salad will change how you think of watermelon. It's not just for dessert anymore.
Here is the map of our Magical Blogorail Teal | Summer Recipes Loop: