As the kids head back to school, it's important that they start their day with a good breakfast. Breakfast is the most important meal of the day! Each year, I try to make a special back to school breakfast. Why not make back to school breakfast even better by making a Disney Recipe. Consider whipping up a batch of Macadamia Pineapple Pancakes! They're both nutritious and delicious!
Ever since I wrote about these for Foodie Friday, I have had a craving for them. So, for breakfast on Sunday, I made some.
There are many recipes out there for these pancakes. I read a couple and decided to combine two together.
What makes these pancakes really special is the nuts right in the batter…
…the butter….
…and the pineapple sauce!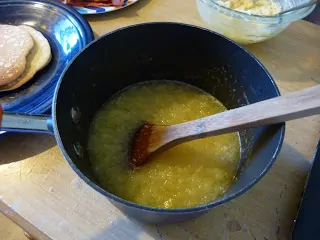 As soon as the batter hits the griddle, your kitchen is filled with this amazing sweet smell.
And when everything comes together, you have Polynesian heaven on a plate!
Nutritional Facts
Macadamia Nuts have been given a bad rap since they are high in fat. But did you know that these nuts help your body fight off cholesterol. They are a also source of
vitamin A, iron, protein (two grams per serving), thiamine, riboflavin and
niacin.
Pineapple is an excellent source of vitamin C which helps to strengthen your immune system.
Macadamia Pineapple Pancakes from Kona Cafe
Pancakes
1-1/4 cups sugar
3 teaspoons baking powder
1/4 teaspoon salt
2-1/4 cups all-purpose flour
1-1/2 cups milk
3 eggs
4 tablespoons vegetable oil
1 teaspoon vanilla extract
1/2- 3/4 cup chopped toasted macadamia nuts
Macadamia Nut Butter
1 stick of softened, room temperature butter
1/4 cup honey
1/4 cup toasted macadamia nuts, chopped
Pineapple sauce (my own addition)
1 can crushed pineapple
3/4 cup sugar
Pinch of salt
Directions
Sift flour into a medium bowl, then ad sugar, baking powder, salt, and macadamia nuts. Stir until combined. Add eggs, milk, oil, and extracts and beat until all ingredients are moistened and the batter is smooth.
On a heated, slightly greased skillet or electric griddle, pour 1/4 cup per pancake onto skillet and cook until bubbles form through the pancake and the sides look cooked. Flip and cook other side until golden brown.
Macadamia Nut Butter
Combine all ingredients and beat together with a fork until creamy. Serve either chilled or at room temperature, but store in the fridge.

Pineapple Sauce
Pour one can of crushed pineapple into a medium sauce pan. Add 3/4 cup of sugar and a pinch of salt. Stir. Cook over medium heat until sauce is warmed through.
Top pancakes with pineapple sauce and nut butter. Serve warm.
Enjoy!