If you are familiar with the logo above, then you must be just as Pinterest obsessed as I am. This online pinboard allows idea junkies, such as myself, access to any and all ideas on the Internet. I first discovered this mecca for planning addicts about 2 years ago. With it, I have planned birthday parties, decorated my home, made holidays more festive and made delicious recipes.
And of course, it helps me organize all of my Disney-inspired ideas…

Currently, I am obsessed with finding recipes from Disney that I can recreate at home. On our last vacation, we ate a Kona cafe. What did I do when I got home? You guessed it, searched Pinterest for the recipes for Tonga Toast and Macadamia Nut and Pineapple Pancakes.
Now with the birth of our new blog, I have 2 Pinterest accounts. One for me and one for the blog. I have moved a lot of my recipe and food pins over to the new blog's boards "Disney Foods" and "Disney Inspired Recipes". Want to see? Click on the links below and while you're there, give us a follow so you are never out of the tasty loop.
Now on to today's tasty dish.
Here in the Northeast it has been cold and miserable. In fact, it is snowing as I sit here typing this. The weather lately has been almost Canadian. And when I think of Canada I can't help but think of…
Cheddar cheese soup with pretzel bread (more of my Pinterest finds)
Here is James with our at-home twist!
I have to say this tasty Tuesday theme is my favorite of this blog experience so far. If you would have told me a month ago that I would be making my own butter cream frosting, ice cream bars, and bread from scratch, well, I'd have said you were Goofy.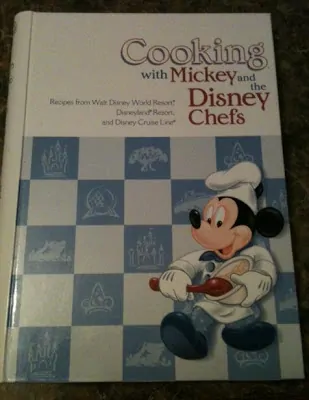 We purchased a Disney cookbook years ago, and the Cheddar Cheese soup was included. The recipe in the book differs slightly from the one we have on our Pinterest board. This is the one I used:
Ingredients (serves 10)
1/2 pound bacon , cut 1/2 inch pieces
4 Tbsp butter
1 cup red onion , small dice
1 cup celery stalks, diced (about 3 stalks)
1 cup all purpose flour
3 cups chicken stock
4 cups whole milk
1 pound Cheddar cheese, grated
1 Tbsp Worcestershire sauce
1 Tbsp Tabasco sauce
1 cup warm beer
Chopped scallions or chives
Instructions
Sauté the bacon in large, heavy-bottom, non-reactive soup pot over medium heat until wilted but not browned.
Add onion and celery. Cook until onions are translucent and bacon has crisped.
Sprinkle in flour and stir constantly for 2 minutes. Stir stock, a little at a time, blending well to ensure that there are no lumps. Bring the liquid to a boil.
Add milk and combine liquids. Cover and simmer over low heat for 15 minutes.
Remove from heat and whisk in the cheese, hot sauce, Worcestershire sauce and beer. Season with salt and pepper to taste.
Sprinkle with scallions and serve.
The pretzel bread recipe was more elusive, however. Apparently the bread at Le Cellier is prepared off-site and the exact recipe is not available. We did find this one that comes close.
Armed with our recipes, Jackson and I hit the store to gather our supplies, and then I started making a mess of the kitchen when we returned. I started with the pretzel bread first.
Ingredients to make the Pretzel Bread dough
I blended bread flour, sugar, and fast-rising yeast in our food processor, then added hot water to create the dough, then set it aside to let it rise.
Dough right out of the processor
While the dough was rising, I started prepping the ingredients for the soup, and Jackson and I also ran over to pick up his big sister from school. The dough had risen nicely while we were out.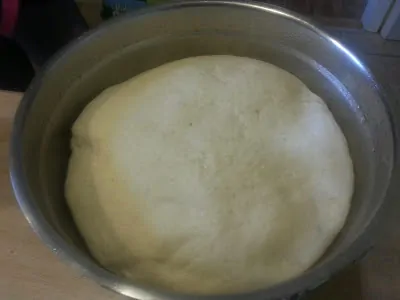 35 Minutes later.
Next, I separated the dough into 8 pieces, and formed them into balls.
I had some trouble cutting the "X"s into the raw dough before setting them aside again. There is probably a trick to it, and I just don't know it.
While the dough was rising, I went back to prepping the soup. It was time to grate the cheddar cheese.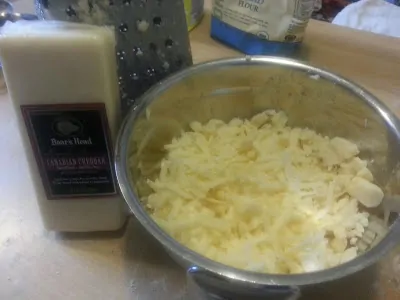 you can choose any cheese you want. I picked Boar's Head "canadian" cheddar.
Next up on the pretzel bread was to drop them into a pot of boiling water, baking soda, and sugar.
can't see much, but the dough is in the boiling water mixture under all that foam!
Then I pulled the dough out of the pot, placed them on a baking sheet, glazed them with egg whites, and sprinkled them with coarse salt (little did I know I was using sea salt)
The salted, glazed dough balls went into a preheated over at 375 to bake for 25 minuted. One of the dough balls fell apart as I tried to scoop it from the pot. That and my scalded pinky finger were the only casualties.
While the bread was baking. I got the soup going. Lisa came home from work just in time to find the kitchen a mess and me cutting frozen bacon. She made a quick exit to a safer distance from my mad-scientist act and I got to cooking up some bacon.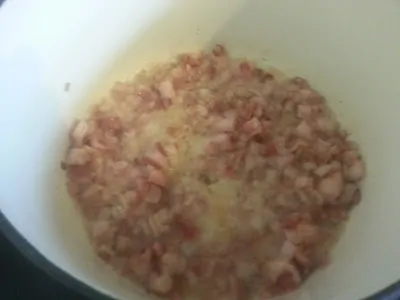 Mmmm.. Bacon!
While that was cooking up, I assembled the rest of the ingredients:
ready to make soup!
Next into the pot was the chopped celery and red onion.
bacon, onion, and celery
Once that was cooked, it was time to add our chicken stock, and at this point, we altered the recipe to add the beer. Originally, the recipe called for the beer to be added last. I had thought, given the fact that 3 of the 4 of us do not drink alcohol, that I would go with a non-alcoholic beer. Then I changed my mind, figuring that the recipe only called for 1/2 a cup, so it really wasn't that much. Lisa suggested adding it at this point so some of the alcohol would cook off. It sounded like a good compromise.
The stock and beer simmered for 15 minutes, and then I added the milk…
almost soup, but something wasn't right.
OOPS! I totally skipped a step. I forgot to make the roux by adding flour to the pot BEFORE putting in the stock and the milk. I thought I totally screwed up the soup. Lisa came in and together, we made a quick roux with some flour and butter in a separate pot, then added it to the soup. It was very thick, so we used a little more milk and stock to thin it out, before adding the cheese.
add the cheese slowly while stirring to help it melt.
After stirring for a bit (in figure 8s, to help the cheese melt), we had our soup. Now all we had to do was add hot sauce, Worcestershire sauce, and salt and pepper to taste.
And while all that was going on, we kept an eye on the bread. 25 minutes was not enough, so we left it in a little bit longer. When we pulled them out, we wrapped them in foil to make sure the inside baked all the way through.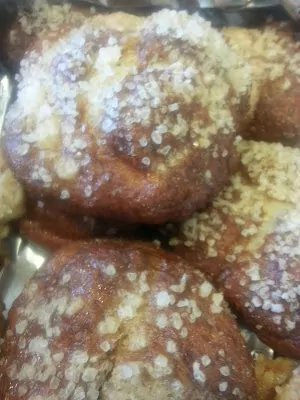 It was time for me to head to work, so I grabbed a quick bowl of soup to take with me, along with some bread. Meanwhile, Lisa enjoyed hers at home with the kids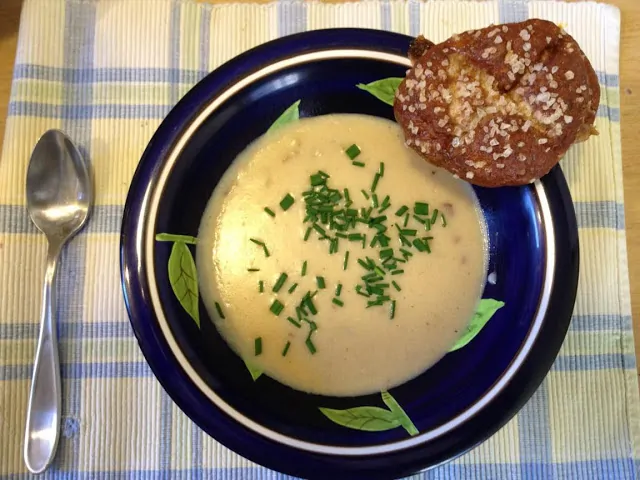 Our at-home version of Cheddar Cheese Soup and Pretzel Bread.
Not bad looking, right? Now, of the two of us, Lisa's had the Cheddar Cheese soup at Le Cellier before. Her take was that ours was a little bit less cheesy than the real thing. That could be due to 2 factors. First, the cheese I chose to use is different. Secondly, my little screw up caused us to add more milk and chicken stock to the recipe, which may have thinned out the cheese a bit.
I had mine when I got to work a while later. I thought it was pretty good. Lisa was also right that the sea salt was a bit overpowering on the pretzel bread. I had to scrape a bit off.
All in all, I thought it was a good meal. A lot more filling than I would have thought for just soup and bread. I look forward to trying it again sometime.
So, after seeing our attempt at making this classic Disney World fare, have we made you hungry to try this yourself?