Seeing a beautiful Christmas light display is something families do every year. Why not make a trip out of it? We've rounded up some of the best Christmas light displays, thanks to some amazing travel bloggers, that are worth going the extra mile (or miles) to experience.
Our Favorite Christmas Light Displays
Taking the kids to see Christmas lights is a family tradition. Whether we're riding around our neighborhood or traveling far from home, it's always a joy to see the kids' faces light up at the sight of a beautiful light display. For us, what makes a Christmas light display worth seeing is the number of lights used, the theming of the display and how creatively it's designed. Our two favorite Christmas light displays are in Pennsylvania. First, Hershey Sweet Lights offers millions of lights and is the perfect way to celebrate Christmas in the area. Next, Koziar's Christmas Village is a family run showcase of lights. What started as a small lit up house has grown into a display that attracts visitors from around the world.
Hershey Sweet Lights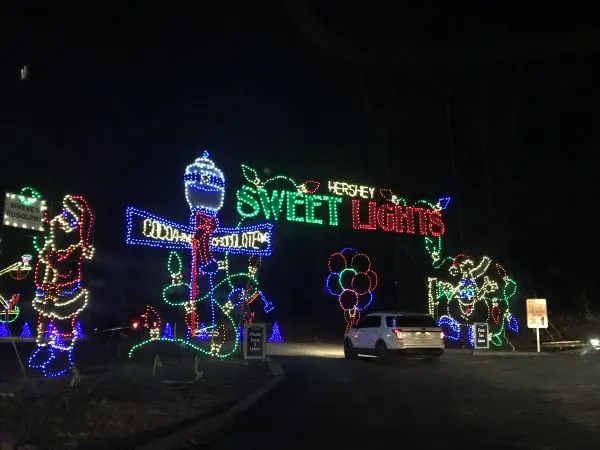 The sweetest place on earth gets even sweeter during the holiday season. The entire town is bustling with festive, family-friendly events. One of these events is one of the best Christmas light displays we've seen. Hershey Sweet Lights is a drive through holiday lights spectacular featuring over 600 animated light displays and 2 million lights. As you drive through the winding wooded trails of Hershey, you'll be treated to festive music and amazing scenes. The 2 mile course features different themed areas including the Enchanted Forest, the 12 Days of Christmas, a Victorian Village and so much more. It's a great way to end your day in Hershey.
Pro tip: Sweet Lights are open daily with reduced admission Sunday through Thursday.
The area also offers Christmas Candylane at Hersheypark and The Christmas Tree Showcase at Hershey Gardens to name a few.The best way to do everything in Hershey, PA is to make a weekend out of it. Packages are available at both The Hotel Hershey and Hershey Lodge which includes a 1-night stay and tickets to both Christmas Candylane and Hershey Sweet Lights. Make sure to bundle up though, as the Pennsylvania temperatures can get into the 20s during the holiday season.
Koziar's Christmas Village
For over 70 years, Koziar's Christmas Village has been delighting families with over a million lights in their walk-through experience. Located in Bernville, Pennsylvania, Koziar's seems like it is in the middle of nowhere. But when you come over the hill on the road leading there, and you see those lights for the first time, it takes your breath away.
And for an affordable price, you can step on to the grounds and immerse yourself in the display, taking in all the details at your own pace. Custom cutouts of favorite Christmas stories line the pathways as you move from scene to scene. The whole family will marvel at the model railroad displays, the collections of dolls and toys you can view through windows, and the seemingly endless number of light sculptures.
Since most of the display is outdoors, you'll want to dress warm and enjoy some hot chocolate and treats. And be sure to bring your camera as there are plenty of photo ops. You can even meet the big man himself!
For families looking to make a full day or even a festive weekend out of trip to the area, Koziar's Christmas Village is less than an hour from Hershey, PA to the west and Bethlehem, PA to the east.
The Best Christmas Light Displays in the US
In the United States, Christmas light displays vary from sprawling gardens to drive through experiences. But what they both have in common is the creativity and ingenuity that can be displayed through dazzling lights.
Longwood Gardens, Kennett Square, PA
Longwood Gardens is located 45 minutes south of Philadelphia in Kennett Square, also the mushroom capital in the Northeast. The gardens were first created by the du Pont family and today cover over 1,000 acres of gardens, woodlands, meadows, and conservatories. From late November through early January, the gardens are transformed into a Longwood Christmas. The outdoor gardens are bedecked with half a million glowing lights, glowing orbs, a tunnel of lights, and miniature railroad displays. Visitors can also enjoy the light display choreographed to music over the lake and fountain garden.
Inside, you can enjoy caroling performances, organ sing alongs, Christmas tree displays, and greenhouses bursting with blooms. There are many places to dine on property, but I would highly recommend fine dining at 1906. Just remember that timed-entry tickets are required, even for members. If you go in the late afternoon you can enjoy the displays at dusk, before the temperatures get too cold. Longwood Gardens is a perfect add-on to enjoying Christmas in Philadelphia, from German Christmas Markets to outdoor ice skating and lights displays. Tamara~ We 3 Travel
https://we3travel.com/christmas-longwood-gardens/
Brickyard at Indianapolis Speedway
Lights at the Brickyard is the ultimate display of Christmas spirit!
Over 3 million lights are stretched along 2 miles winding through the
track and infield of the iconic Indianapolis Motor Speedway. You will
drive through dozens of unique, colorful displays and pass through the
world-famous "Yard of Bricks" start-finish line.
Beginning in 2019, from December 13-24, there are 2 unique out-of-car
opportunities! For regular ticket holders, The Plaza Village
Experience offers a chance to sit by a cozy fire and admire the
wonderland surrounding the famous Pagoda. For Speedy Pass holders, IMS
is introducing The Pagoda Lookout Experience and Santa Claus Meet &
Greet. This experience gives visitors a rare opportunity to ascend to
the eighth floor, then greeted with a one-of-a-kind view of the 3
million lights below. Guests of the Pagoda Lookout Experience are
welcome to greet Santa Claus and take photos trackside!
Lights at the Brickyard runs from the last week of November to the
first week of January. While in Indiana, be sure to check out all that
Indianapolis has to offer. Whether you are a museum enthusiast,
epicurean seeking a great culinary experience, or family searching for
kid-friendly fun, Indy has something for everyone! LeeAnn~ The Hable Way
https://thehableway.com/lights-at-the-brickyard/
Dyker Heights, Brooklyn
New York City is hands down, one of the most magical places to visit for Christmas time in the United States. And if you happen to be fortunate enough to visit during the holiday season you can find the best Christmas lights display in Dyker Heights Brooklyn. This holiday light tradition that has been carried on by Dyker Heights residents now for over 100 years, and attracts a huge crowd from near and far.
The sky is literally the limit for residents who decorate in Dyker Heights, and with each year the displays get bigger and better. Each house is completely wrapped in lights and decorations and you can find projections of snowflakes, and life-size nutcrackers, giant Santa Claus's on front steps and front yards. The lights typically start turning on after Thanksgiving and light up the sky right through Christmas day. The earlier you go, the lower the crowds, but nonetheless be prepared to spend a few hours walking through the streets to see this awesome display of Christmas lights.
If you happen to be driving to Brooklyn to see the lights, a great place to park would be around 86th and 7th Ave, but if you are coming in from Manhattan you can easily take the subway over to Dyker Heights. And while you are in Brooklyn, getting into the holiday spirit, also grab yourself some awesome pizza in the area at either Krispy Pizza, or La Villa Pizzeria. Amanda~ Patsey Family Travels
http://www.patseyfamilytravels.com/
Denver Holiday Lights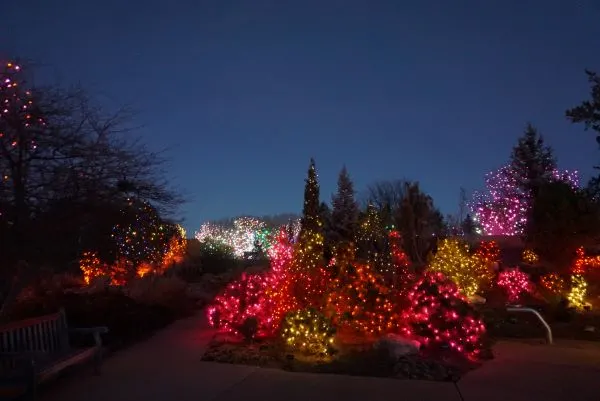 There's no question that Colorado is a snowy, magical winter wonderland. But did you know that the state's capitol of Denver is also a hub for colorful, sparkling Christmas light displays?
Denver Botanic Gardens' offers its annual Blossoms of Lights, a colorful twinkling winter paradise, at the York St. location. Saunter through and take in the colorful sights. Stop for hot cocoa. Then wrap up this colorful experience with an interactive light display set to music that visitors can control.
The Denver Zoo offers more than two million lights spanning across more than 70 acres as a part of their annual Zoo Lights celebration. Illuminated animal sculptures swing through trees, jump across lawns, hide in bushes and appear in places where they're least expected.
New for 2019, the Mile High Holiday Tree makes its debut. This brilliantly lit, 110-foot-tall art installation in Sculpture Park at the Denver Performing Arts Complex can accommodate up to 140 guests at a time for an immersive viewing experience within the tree itself.
Gaylord Hotels' signature experience ICE! will also make its Colorado debut this winter at the Gaylord Rockies. Favorite scenes from Rudolph the Red-Nosed Reindeer will be brought to life in this walk-through winter wonderland carved from more than two million pounds of colorful ice.
For holiday light viewing without out even getting out of your car check out Christmas in Color. 1.5 million lights perfectly synchronized to holiday music you listen to through your radio as you drive by giant candy canes, snowmen, arched pathways and more. Available at two Denver locations — Water World in Federal Heights and Bandimere Speedway in Morrison. Liana~ Insider Families https://www.insiderfamilies.com/denver-holiday-highlights-for-families/
Rock City Gardens~ Chattanooga, Tennessee
The enchanting gardens of Rock City come to life during the holiday season. Located just minutes from downtown Chattanooga, the natural beauty comes to life with thousands of sparkling Christmas lights. Experience the magic of four uniquely themed realms of wonder: The Magic Forest, Arctic Kingdom, North Pole Village, and Yule Town. Start at the heart by taking a stroll along the North Pole Highway and choose which realm to start your journey. Finish with warm hot cocoa and gingerbread cookies! Kimberly~ Savvy Mama Lifestyle https://www.savvymamalifestyle.com/instagram-worthy-rock…/
Ozark Mountain Christmas~ Branson, Missouri
Ozark Mountain Christmas is a huge celebration in Branson, Missouri. From live shows, to light displays and special events taking place November 1 until New Years Eve, you will surely embrace the Christmas spirit. Did you know Branson is the Christmas Tree Capital of the United States? They display over 150 decorated trees, and each tree around town offers a different theme.
If you haven't been to Branson during the holidays, you're in for a real treat. For over a quarter century, Branson has made its holiday season a treasured tradition. Families come from all over the country to experience the magic of this town during the Christmas season.
If you are looking for a wholesome, family friendly place to celebrate the most wonderful time of the year, be sure to add Branson and the Ozark Mountain Christmas celebrations to your list. It will truly get you in the spirit of Christmas, and all that it truly is about, faith and family. Jenn~ Journeys with Jenn http://journeyswithjenn.com/
Silver Dollar City
Silver Dollar City is a theme park located in The Ozark Mountains, what you don't know is, it should definitely not be overlooked by theme park fans. I honestly wasn't sure what to expect having never been, but I was pleasantly surprised by what I found. Each year from November thru December, the park turns into a winter wonderland celebrating Christmas.
The park's "An Old Time Christmas" festival features beautiful lights, decorated trees, two Broadway-style musical productions, thrilling attractions, shopping, endless holiday treats and an evening parade. You should certainly plan to spend an entire day exploring this Christmas wonderland with your family. Jenn~ Journeys with Jenn http://journeyswithjenn.com/
International Christmas Light Displays
Abroad, Christmas markets are a popular way to show off lights. Just like in the United States, gardens are also a way to light up the holiday and show off the area's natural beauty.
Capilano Suspension Bridge Canyon Lights, British Columbia
Capilano Suspension Bridge, located in North Vancouver, British Columbia, is well-known for its beauty, ecological and cultural significance, and thrills year-round. But for the holidays, during its Canyon Lights Event, this amazing park becomes even more magical.
The park is comprised of a great gift shop, cultural center, the namesake 430-foot long suspension bridge, Treetop Adventure, which gives you a top-of-the-rainforest experience, and the newest attraction, Cliffwalk, which is a somewhat terrifying walking bridge cantilevered to the canyon rock wall giving fantastic views of the canyon. All three attractions, and much of the surrounding forest and canyon, are transformed with dazzling twinkling lights above, below, and everywhere you look. The effect is spectacular, combining the thrill of being suspended 230 feet above the Capilano River mixed with the wonderful sights and smells of the rainforest, plus the festive charm of the professionally designed lights. It's a truly unique, and distinctively Northwest event that will really get you in the holiday spirit.
Capilano Suspension Bridge is located only 15 minutes from the heart of Vancouver, B.C. Vancouver is a great place to visit particularly for the holidays because it has so many family-friendly and really fantastic holiday events. Check out Bright Nights at Stanley Park, Vandusen Garden Festival of lights, and the Vancouver Christmas Market. Amy~ Two Little Pandas https://twolittlepandas.com/top-25-pacific-northwest-christmas-events-with-kids/

Tallin, Estonia
As a family we travel almost every year during Christmas time and one of our favorite things to do during these trips is to enjoy the Christmas lights. Many towns and cities round the world deck themselves out in sparkles making this festive holiday even more enchanting.
Tallinn, the capital city of Estonia, is no different. In fact it seems that the city council even go the extra mile to make sure that its main areas, especially the Unesco World Heritage Old Town, look magical! These amazing light displays added to the fact that Estonia is a true winter wonderland destination makes Tallinn a perfect place to visit in the winter months.
Tallinn is home of one of the best European Christmas markets featuring dozens of beautifully decorated wooden tents and a giant Christmas tree with fairy lights displaying across every available surface. The atmosphere, traditional food and the Christmas lights at night are simply astonishing.
Further you will see several light displays in many location and also around the beautiful century old buildings, towers, churches and gardens that are as pretty as Christmas cards. These beautiful Christmas display make the outdoor areas enjoyable despite the short days and wintery weather. You won't be disappointed. Thassia~familyoffduty.com.
Advent Market~ Zagreb, Croatia
The best Christmas light display I have seen was the Advent Market in Zagreb, Croatia. Zagreb, the capital of Croatia, goes all out for their Christmas Market. It lives up to the title of "Best European Christmas Market" with holiday displays throughout the city.
There are little "villages" throughout the city filled with food and drink vendors, including the obligatory mulled wine. Each village is decorated to the nines with a different theme, but all include lovely light displays. A WWII bomb shelter tunnel becomes a neon light show, complete with thumping music and moving lights and images. The winter village looks like it is straight out of the North Pole with its trees covered in white lights to look like snow.
In addition to the lights, there are plenty of other things to see and do. One of our favorite activities was ice skating on on King Tomislav Square. The displays and lights change every year, so won't know quite what to expect unless you check the website ahead of time. Since the market is spread throughout the historic city, it's a good opportunity to visit museums and get to know this beautiful place. From Zagreb, you can easily take a train to Vienna, Salzburg, Ljubljana, and many other European cities. Mel ~ TravelingMel.com

Where is your favorite Christmas light displays? Let us know in the comments, tweet us @advinfamilyhood or send us an email [email protected].
For more Holiday Travel ideas: