While we love Walt Disney World's character meals and buffets, sometimes we just want a nice sit down meal as a family. These are the best table service options that will please both kids and grown ups.
Welcome to this month's Blogorail Green Loop. Today we are sharing dining tips for your Disney vacation.
---
As frequent Walt Disney World guests, we have dined at a number of restaurants. When our kids were little, we loved going to character meals and buffets. Those types of restaurants kept the kids happy and engaged. It wasn't so much about the food, but rather the character interactions and variety of offerings for the kids. Now that our kids are getting older, there are times when we want a nice relaxing meal with good food and minimal interruptions.
When considering booking a reservation at a table service restaurant with kids, there are a few things to consider. While Disney has a wide range of table service restaurants, some are better than others when it comes to kid-friendliness. Atmosphere plays a huge role in how we choose our dining. It shouldn't be too quiet where you're constantly asking your kids to stop talking. Also, depending on your kids, you probably won't want to choose a restaurant that is super foodie. Disney does go out of its way to accommodate kids, but some restaurant's menus are a little too adventurous for even the best eaters. Lastly, without characters to entertain the kids, the restaurant's fun-factor needs to be turned up. There has to be something special that is going to hook the kids and make up for the missing character dining time.
When compiling this list I kept those ideas in mind. Each of these restaurants has a kid-friendly atmosphere, great food and something special for the little ones. Plus, parents will enjoy dining there just as much as their kids.
Via Napoli
Via Napoli in Epcot's Italy Pavilion is a family favorite. It is home to the best pizza in Walt Disney World. Even if your kids don't like pizza (like my son), their kids menu includes meatballs and pasta. The hustle and bustle of the restaurant will drown out the sound of even the noisiest of diners. Kids will enjoy seeing the wood burning ovens, Etna, Vesuvius and Stromboli, in their open air kitchen.
Teppan Edo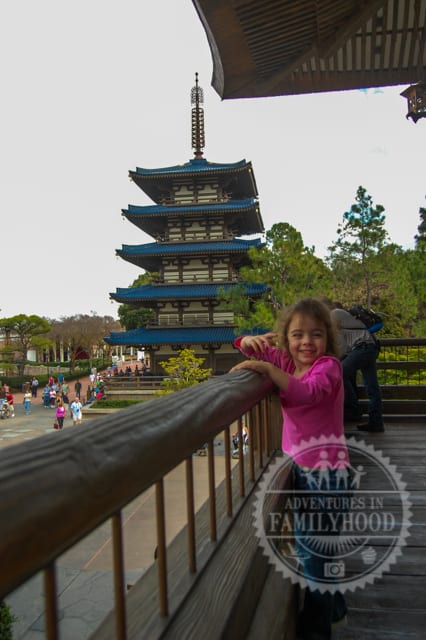 A meal at Teppan Edo is not just a meal, it's a show. The hibachi restaurant located in Epcot's Japan pavilion will be sure to wow kids and adults alike. Chefs amaze guests with their tricks as they prepare your food right in front of you. Kids get to choose from chicken, steak or shrimp as their meal. Another cool feature for kids is being able to try out using chopsticks.
Coral Reef
Dining at Epcot's Coral Reef is like dining under the sea. Nestled in the back corner of The Seas with Nemo and Friends, Coral Reef offers both great food and amazing atmosphere. What's better than dining in the same room as a giant coral reef? Don't hesitate to ask your hostess for a table right by the aquarium. Even if that doesn't work out, excellent views can be had all around the restaurant. Kids will receive a souvenir fish guide.
Sanaa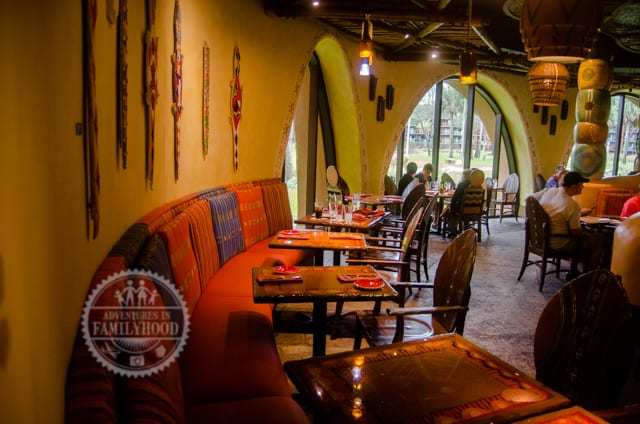 Sanaa, at Disney's Animal Kingdom Lodge (Kidani Village), is a hidden Walt Disney World gem! Don't let the African and Indian fusion themed menu deter you. Sanaa has something for everyone. The whole family will enjoy their Indian bread service appetizer. Kids will love dipping their bread into the 9 different sauces. Who knows which flavors they'll discover? Sanaa's "Cookies and Milk" dessert lets kids decorate their own cookie. But the biggest draw is dining with views of the animals on the Sunset Savannah.
Be Our Guest
There's more than one castle to eat at in the Magic Kingdom. Be Our Guest is a sought after reservation and for good reason. The opportunity to dine in the Beast's Castle is like stepping into the movie. Dinner is like a character meal but not. Your family will be able to have a leisurely meal, but still have the chance to greet the Beast after you are done dining. Although there isn't any chicken nuggets on the menu, there is macaroni and cheese and grilled chicken skewers. Parents will love their French inspired menu and extensive wine list.
Dining with kids doesn't have to be character meals and buffets all the time. There are plenty of great table service dining options at Walt Disney World to satisfy any family. Which one is your favorite?
For more Disney dining suggestions,
check out the other great posts from the Blogorail!
---
Here is the map of our Magical Blogorail Green | Where to Eat If . . . Loop: