Halloween time just got a lot sweeter now that Hersheypark in the Dark is back for 3 sweet weekends. Enjoy dark rides, trick or treating, character greetings and a whole lot of festive family fun.
Thank you to Hersheypark for providing our famiy 4 passes to Hersheypark in the Dark. All opinions are our own.
Hersheypark in the Dark has been on our bucket list for a long time. Having been to Christmas Candylane this past December, we were excited to see how Hersheypark does Halloween. It did not disappoint! This seasonal event includes 50 rides, trick or treating, character experiences, festive foods and the opportunity to see Creatures of the Night at Zoo America. With so much fun to choose from, where do you start? Here's what we think are the must-dos at Hersheypark in the Dark plus our tips to make it a spooktacular time.
When is Hersheypark in the Dark?
For the 2019 season, Hersheypark in the Dark runs Friday-Sunday from October 18th- November 3rd. Hours vary by day.
Fridays 5 pm-10 pm
Saturdays 10 am-10 pm
Sundays 12 pm-9 pm
Zoo America: Friday and Saturday 10 am- 10 pm, Sundays 10 am-9 pm
Start Your Experience at Hershey's Chocolate World
The Hersheypark in the Dark experience begins across the way at Hershey's Chocolate World. Free to enter, Hershey's Chocolate World has 3 trick or treat stops set up throughout the building.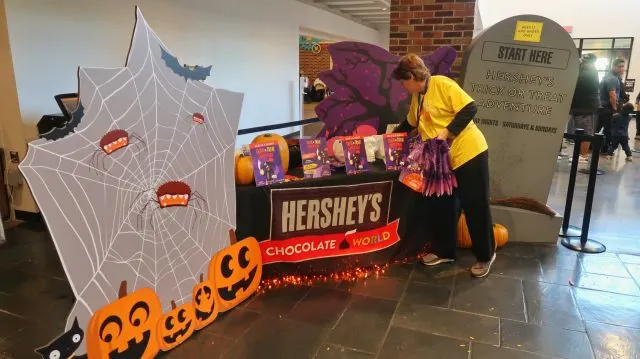 The Spider Web – to the right of the entrance on the way to the Candy Bar making experience
Haunted Trees – By the Hershey Kisses section
Bat Cave – By the rear exit and walkway to Hersheypark
You can also get complimentary candy by taking the Hershey's Factory Tour. Hershey's Chocolate World has seasonal candy to buy as well. Before you leave grab a quick lunch or dinner, before heading over to Hersheypark. This will help you to maximize your time in the park, especially if you are visiting on a Friday night.
Trick or Treat in Treatville
More trick or treat stops can be found in Treatville. Located across from the entrance to The Boardwalk, Treatville is a fun experience that lets kids continue trick or treating at 9 different themed stops. Bags are provided for filling with sweet treats.
Meet Hershey Characters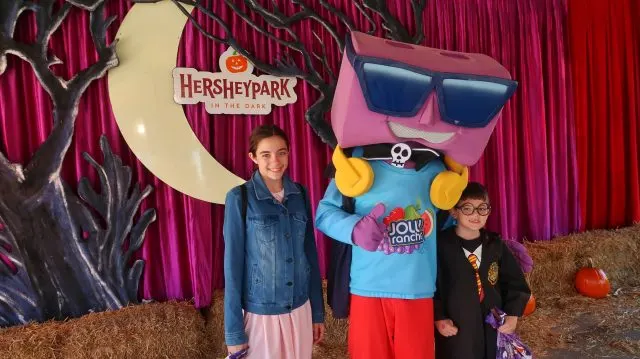 At the end of Treatville, at Wildcat Catering, meet an assortment of your favorite Hershey characters dressed in their Halloween costumes. During our visit, we got to meet both Jolly Rancher and Kit Kat. Characters change every half hour.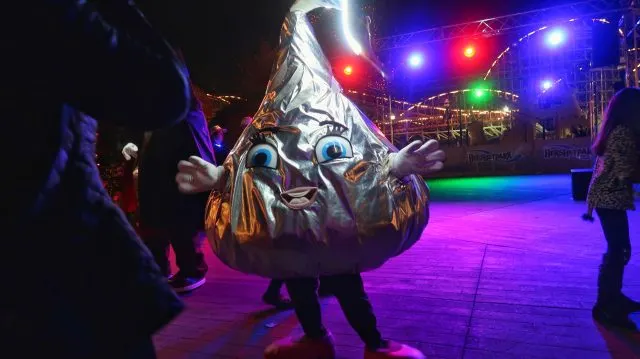 Once the sun goes down, join a variety of Hershey Characters for the Hershey Characters Glow Party. Dance to fun Halloween tunes and get pics with your favorite characters in their light up costumes. The party is located in the Midway America area near Dispatch Pizza.
Ride Coasters in the Dark
The best part of Hersheypark in the Dark is the part when you actually get to ride coasters in the dark. Head over to Midway America into the big building housing Laff Trakk. The glow in the dark queue will make you think it's a normal ride, but when you get on it's PITCH BLACK. It adds a good thrill to the ride. This overlay is available throughout the Hersheypark in the Dark event.
During the last hour every night, Wild Cat, Comet and Lightning Racer become a dark ride experience. Just like with Laff Trakk, the darkness adds a new dimension to the rides, making them even more thrilling.
Visit Zoo America
Not only should you visit Zoo America for the last trick or treat stop, but also to enjoy the Creatures of the Night experience. Bring your flashlights to see North American wildlife at night. Get up close and personal with reptiles and owls. Also learn fun facts and debunk animal myths while you explore the zoo.
Try Fall Food and Snacks
This wouldn't be a post of mine if I didn't talk about the food. Hops and Harvest specialty menus are available each weekend at Spring Creek Smokehouse and Dietz & Watson Country Grill restaurants. Enjoy fall themed items such as turkey legs, apple dumplings, pumpkin pie and pot roast sandwiches. My favorite menu item was the chicken pot pie casserole served with a biscuit.
Oktoberfest Menu – October 18, 19 & 20 View Menu
Dutch Fest Menu – October 25, 26 & 27 View Menu
Barbeque Fest Menu – November 1, 2 & 3 View Menu
Plus, enjoy fall beer and cider flights in the Yuengling 1829 Patio & Pavilion.
Of course, if you go to Hersheypark and don't have a king shake, do you even go? For Hersheypark in the Dark, it's all about the Pumpkin King Shake. Pumpkin milkshake served with 2 chocolate covered pretzels and a slice of pumpkin cake roll. Pair it with a pumpkin funnel cake sundae for the ultimate fall treat.
Tips for Hersheypark in the Dark
Arrive early to enjoy the rides: Depending on the weekend, you'll be able to have shorter lines and more opportunities to ride. We visited on a Sunday and experienced very light crowds.
Visit Treatville at night: Since it was our first time, we wanted to do as many of the Halloween things right away. In retrospect, it would have been better to visit when the space was all lit up.
Kids 12 and under are permitted to Trick or Treat : Sorry moms and dads, no candy for you. But…
Dress up: Both kids and adults are permitted to dress up in costume. Adults are not allowed to wear face paint or masks of any kind.
Prepare for the weather: October in Pennsylvania is fickle. You could have cold temps, rain or like us, warm weather.
Bring a flashlight for Creatures of the Night at Zoo America
Bring glow in the dark items such as glow sticks or necklaces for when it gets dark. It's not only festive, but it will help you locate your kids in the dark.
Take the time to walk around to see the light up displays such as the singing pumpkins in Midway America.
We had such a great time at our first Hersheypark in the Dark, that we plan on making it an annual trip. Have you been? Let us know your favorite part in the comments.
For more information about visiting Hersheypark year round check out some of our other posts.
Hersheypark Guides
For more information on Hersheypark, check out some of our other posts.
Taking your preschooler to Hersheypark? Find out which rides are suitable, what else they can do and dining options.
Christmas Candylane is Hersheypark's festive holiday event. Find out everything there is to do and see at this seasonal experience.
Summer is a great time to visit Hershey, PA.