Get the family together for a fun family game night! Thank you to Goliath Games for providing us with some games for review. All opinions are our own.
Family game night is a time for the whole family to come together in the spirit of competition. It creates an opportunity for family bonding and discussions, while teaching kids important values like sportsmanship and taking turns. Game night lets us put more play into our day. It gets kids off their screens and interacting with each other.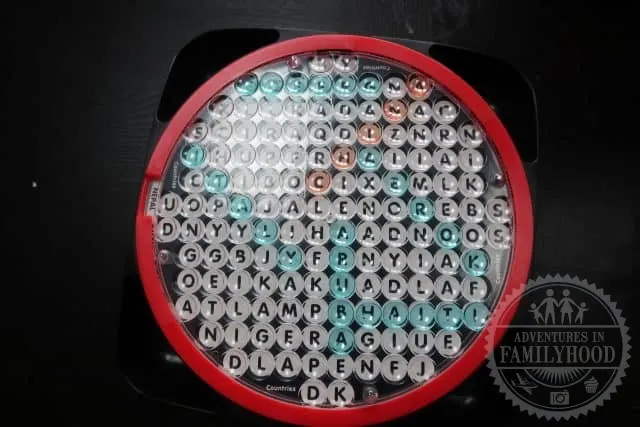 Recently, our son's school has instituted a monthly family game night. The first Wednesday of every month, in lieu of homework, families are encouraged to play games. We absolutely love this idea! We've been having these nights since the kids were little. But you could tell this made some other parents in the community stressed. While the concept of a family game night sounds good, truth be told, I do understand why they would stress. Fights, tears and tantrums are just a few things that might happen. But we can't let that fear stop us from having fun with our kids.
Tips for a Fun Family Game Night
I decided to come up with some tips to help families have a fun family game night. Basically if you have food, set a few ground rules and have the right kind of games, you're good to go.
Make Game Night Snacks
I am a firm believer that where there is food there is fun. Whether we're watching a movie, taking a road trip or playing a game, there always has to be food involved. For family games night I like to make a few snacky-picky items. You want things that are easy to eat, grab and go, and won't make a mess. Here are some suggestions:
Popcorn: Make it more special by adding in candy for a sweet treat or melting some cheese on top if you're craving something savory
Cookies or brownies
Fruit or Vegetables with dip
Cheese and Crackers: Be creative and serve them on a checker board
Schedule a Date and Time
Get everyone there and excited for family game night. Put your event on the family calendar. Schedule it for a time you know the whole family is there and has no other obligations. If you have a central family planning bulletin board, put up an announcement.
Lay Down the Ground Rules
Like I said before, not all game nights are happy and joyful experiences. But we can take some steps ahead of time to try to avoid any of these mishaps. The food was the first way (food=happy). The second is to lay down some grounds rules. Here are some that we have for our family.
Be a good sport: Win or lose, if you had fun you won!
Be respectful of other players, especially the younger ones.
Play by the rules: Cheating will not be tolerated.
Everybody stays until the end of the game.
Choose Fun Games
Now that all the business and set up are out of the way, it's time to play! Our friends at Goliath Games sent us a collection of fun family friendly games that are perfect for a family game night.
Word Search
Ages 7+
Word Search is a fast-paced, multiplayer word-finding game. In the short time we've had it, it has become a family favorite. Players simultaneously look for the same word in a word search grid. The first player to find it calls out "Word Search" and places their colored chips on the word. Spin the game board for the next word. But watch out! If your opponent finds a word that intersects one of yours, they will knock your word out. Who knew that a word search puzzle could be so competitive.
Rummikub
Ages 8 and up
Rummikub brings people together. Its fast-paced game play is ideal for people of different ages to play together. Players take turns placing numbered tiles in runs and groups, rummy style. The 'board' continually changes as players adjust the tiles on the table. Be the first player to play every tile on your rack to win.
Sequence
Ages 7 and up
Sequence is fun for the whole family. Its easy enough for kids while still being challenging enough for adults. Play a card from your hand, and place a chip on a corresponding space on the game board. When you have five in a row, it's a Sequence. Sequence can be played individually or as a team, so even the littlest of players can join in on the fun.
Family Game Night Giveaway!
Because everyone should have a fun game night with their family, we're going to make that one step easier by giving you a chance to win a pack of games from Goliath and Pressman Games.
Family Game Night Giveaway with Goliath Games
Family Game Nights
Turn off the screens, grab a game, and gather the family around it once a week for Family Game Night! It's a great way to bond, to learn, and just have fun together.