Have the kids help with the packing by using our Vacation Packing List for Kids.
I don't know about you, but in our house I am the HPIC (the Head Packer in Charge). Not only am I responsible for packing myself, but I also have to pack for both the kids. For a time, I actually preferred it this way. I am too much of a control freak to let someone else do it. I perfected a system of packing that not only ensured they'd have everything they needed, but would also keep us organized once we reached that destination. It was a lot of work and I did all of it.
But it's time to relinquish some of that control. Deep breaths. My kids are getting bigger and are at the age when they are capable of picking out their own clothes. So I came up with a kid-friendly packing checklist to help my kids gather the items they need to pack in their suitcase. I'm still the HPIC, but now I have a little help in getting the job done. Giving them the responsibility of packing for themselves teaches them independence and organizational skills.
Vacation Packing List for Kids
My Vacation Packing List for Kids is suitable for kids 6 and up. The items they need to pack are listed under each category, clothing, accessories, bathroom supplies and backpack. My kids used this for our Disney trip last summer. With the exception of Bella only packing 1 pair of socks (yes, even though she checked it off), it worked really well. We're going to try it again for our next trip. This time I'll make sure I double check their items before packing them.
How to Use the Vacation Packing List for Kids
Print out one list for each kid. All you need to do before you give it to them is fill in the quantity of each item they need. I've also included a check box so they can check off each item as they gather it. Designate a space to layout all the items. Check over their list together to make sure they gathered everything. Pack the items in their suitcase or pack their clothing by outfit using the storage bag packing method.
Other Packing Must-Haves for Kids
While I give my kids ownership of the clothing and accessories they pack, there are some items that must be packed by an adult.
First Aid and Medications
We have a family travel first aid kit that we take with us on every trip. It includes medications for typical ailments (pain relievers, allergy, digestive), first aid supplies (band-aids, ointment), and any prescription medications.
Tolietries
While the kids pack their own toothbrushes and toothpastes, I pack all the supplies for showering and bathing. They're kept in a hanging shower caddy and has enough soap and shampoo for the whole family.
Printable Packing List
Click on the image below to print our Vacation Packing List for Kids.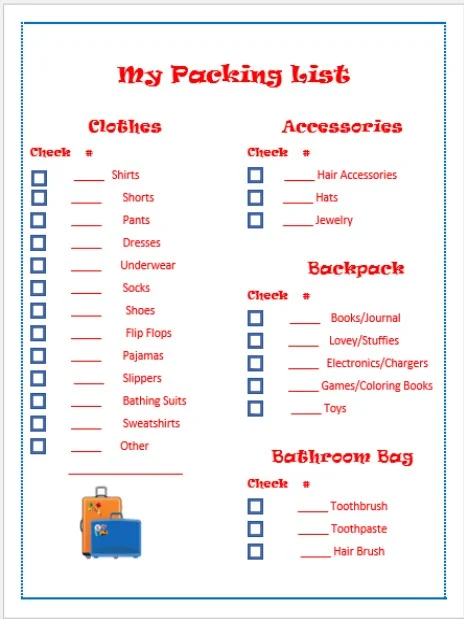 If you want to save this idea for later, pin the image below not the PDF or the image above.