The "Kitchen Sink" at Disney World is famous for being an ice cream sundae that takes a whole table of family or friends to take on. But did you know that's just one of several ice cream challenges you can tackle at the "Most Magical Place on Earth"?
Here's every super-sized Disney World ice cream dish for your bucket list. I dare you to try them all!
Disney World Ice Cream Challenges
Everyone likes ice cream, no matter who they are. We've checked every Walt Disney World restaurant and found this list of shareable and instagram-able treats that feature ice cream.
Earthquake Family Favorite – Ghirardelli Soda Fountain and Chocolate Shop, Disney Springs ($39.95)
The Kitchen Sink – Beaches & Cream Soda Shop, Disney's Beach Club Resort ($34.00)
S'mores Baked Alaska – The Boathouse, Disney Springs ($40.00)
The Fountain Funnel – The Fountain, Walt Disney World Dolphin Hotel ($28.99)
Brownie Sundae Martini – Planet Hollywood, Disney Springs ($19.99)
Chocolate Extinction – T-Rex, Disney Springs ($18.49)
Sparkling Volcano – Rainforest Cafe, Disney Springs & Disney's Animal Kingdom ($16.99)
Mickey or Minnie's Kitchen Sink Sundae – Plaza Ice Cream Parlor, Magic Kingdom ($16.99)
Sand Pail – Happy Landings, Typhoon Lagoon ($13.99)
Sand Pail – I.C. Expedition, Blizzard Beach ($13.99)
Earthquake Family Favorite

This photo of Ghirardelli Soda Fountain & Chocolate Shop is courtesy of TripAdvisor
For years, Ghirardelli's has been a favorite stop of ours at Disney Springs. The "Earthquake" is made for families to share with eight scoops of ice cream, eight toppings, bananas, and topped with whipped cream, diced almonds, and Ghirardelli mini dark chocolate chips and cherries.
Kitchen Sink
"The Kitchen Sink" is the most well-known ice cream sundae at Disney World. Families make reservations at Beaches & Cream solely to feast on this fun concoction that features scoops of vanilla, chocolate, strawberry, cookies and cream, and mint chocolate chip smothered in every topping in the joint. You can also request a chocolate lovers or neapolitan version.
S'mores Baked Alaska
Thinking of ice cream at Disney World, the Boathouse isn't probably one of the places that comes to mind. But their "S'mores Baked Alaska" is huge, and a sight to both see and eat! It is made from rocky road ice cream, with toasted marshmallows, milk chocolate, and a graham cracker crust.
The Fountain Funnel
Whenever we talk about ice cream at Disney World, we always tell people about The Fountain at the Dolphin Hotel. It's a hidden gem and a good alternative to get away from the crowds at Beaches & Cream.
The "Fountain Funnel" allows you to pick seven flavors of ice cream, three sauces and three toppings to create your own funnel-shaped masterpiece. Of course, it's all topped with whipped cream and a cherry.
Brownie Sundae Martini
At first glance, this sounded like an adult beverage, but the "Brownie Sundae Martini" at Planet Hollywood in Disney Springs is very family-friendly. Served in a giant martini glass, it's loaded with twelve decadent chunks of freshly baked brownies, layered with six scoops of vanilla and chocolate ice cream, then topped with caramel and chocolate sauce before being buried in mounds of whipped cream and a cherry.
Chocolate Extinction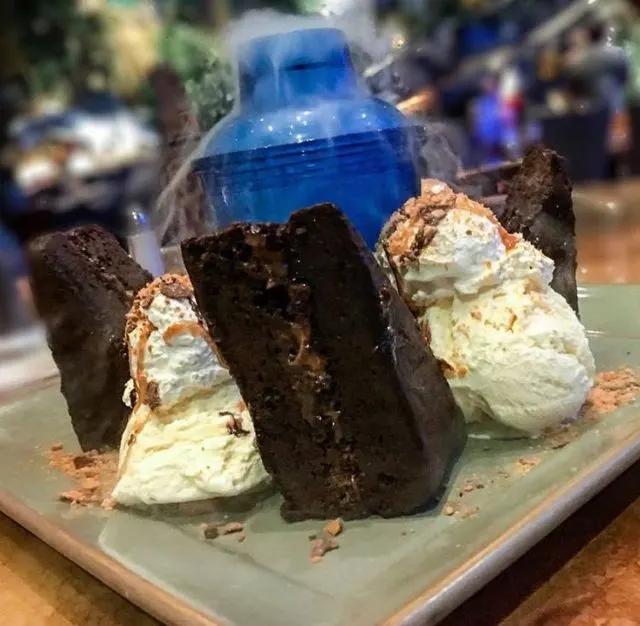 If you're looking for a fun Disney-like atmosphere outside of the theme parks, then T-Rex will please with it's theming and animatronic dinosaurs. Whether you're stopping by just for dessert or a whole meal, the whole family will love sharing "Chocolate Extinction". It features slices of chocolate fudge cake, scoops of ice cream, whipped topping, fudge and caramel sauce, and Butterfinger crumbs.
Sparkling Volcano
Like T-Rex, Rainforest Cafe offers a fun atmosphere, despite the fact it made our list of restaurants to skip. They're both owned by the same company, so it's no surprise the Rainforest Cafe also features a cake and ice cream dessert for the whole family to share.
The "Sparkling Volcano" is shaped like a volcano with ice cream coming out the top and chocolate sauce running down the sides like molten lava. The lit sparkler on top adds a little fun to it. The family will share (or fight) over slices of rich chocolate brownie caked stacked up high, served warm with vanilla ice cream, creamy whipped topping and topped with caramel and chocolate sauces.
Mickey or Minnie's Kitchen Sink Sundae
Up until this point on our list, all our ice cream challenges have been located at Disney Resorts or Disney Springs. But you can get some slightly smaller, but still very shareable ice cream creations inside the parks.
At Magic Kingdom, your crew can grab this deliciously adorable "Mickey or Minnie Kitchen Sink Sundae" that is served in a souvenir sink. It comes with your choice of two flavors of hand-scooped of ice cream. Then add your choice of hot fudge, peanut butter or caramel sauce topped with whipped cream and two cherries.
One of the best parts of getting this treat at the Plaza Ice Cream Parlor is the view while you enjoy it!
Sand Pail
The last challenge on our list can be enjoyed at either of the Disney Water Parks. The "Sand Pail" is called that because it's served in a souvenir sand pail. (It doesn't fill the whole pail). You and the kids can take turns shoveling chocolate and vanilla soft-serve ice cream, waffle cone pieces, oreo cookie pieces, sprinkles, hot fudge, caramel sauce, and whipped cream into your mouths. You'll have to figure out who gets the cherry.
Final Thoughts
Enjoying each and every one of these ice cream challenges in one visit would be an ambitious task. So far, we've had three. Yes, some of them are pricey, but when you consider the cost of everyone getting their own sundae, it could end up being a deal to all share one item.
If you're getting the Mickey Pants at Magic Kingdom, keep in mind you'll have to carry the sink around with you the rest of the day.
So how many Walt Disney World ice cream challenges have you had? Which is on your bucket list? Let us know in the comments!