We received free products in order to host a Disney Side @ Home Celebration. The opinions expressed here are our own.
---
What is a #DisneySide? It's the part of you that laughs bigger, screams louder, and lives life to the fullest. For most Disney fans, their #DisneySide comes out the moment they set foot in a Disney park. For our family though, our #DisneySide encompasses all aspects of our lives. We eat, sleep and breathe Disney. It's hard for some people to understand our Disney love and more often than not we get that question, "You're going to Disney, again?"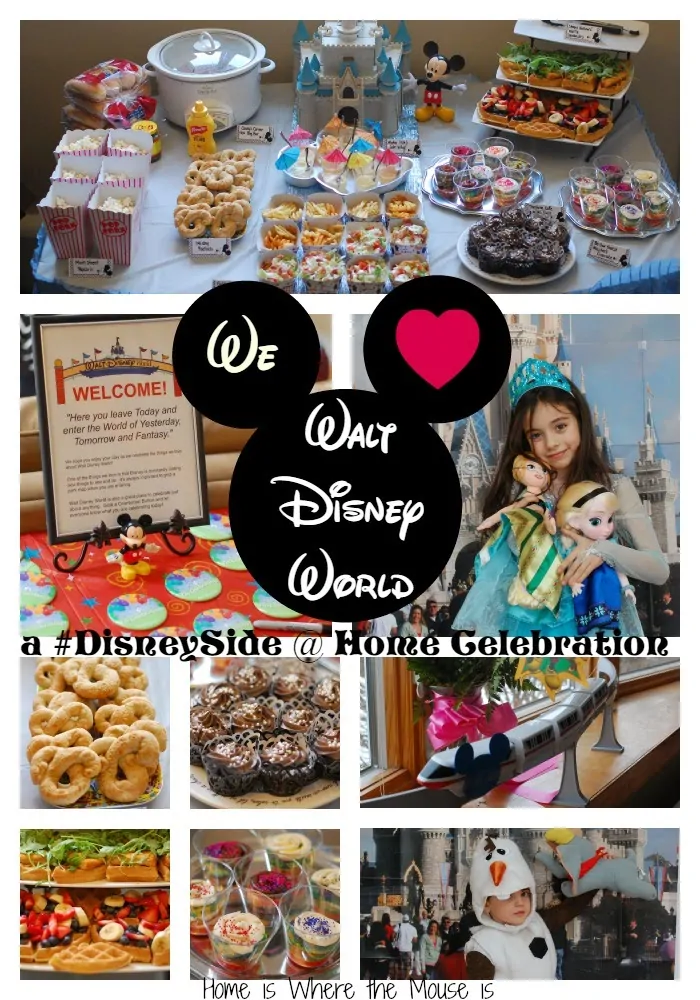 For our #DisneySide @ Home Celebration this year, we wanted to show our friends and family why we love Disney so much, what keeps us going back and hopefully encourage some of them to embark on their own Disney adventure. Our "We Love Walt Disney World" party gave our guests a taste of all the magic Disney has to offer right in our home.
As guests arrived, they were greeted with our welcome station. Here they were able to pick up park maps, celebration buttons and some #DisneySide quizzes and puzzles. We left sharpies out for guests to personalize their celebration buttons.
Next, guests visited our Nikon Photo Spot. One of our favorite and traditional places to take a family photo is in front of Cinderella Castle. We set up a giant Castle backdrop complete with character props. The kids especially loved flashing their biggest smiles in front of the backdrop. We even got in on the act!
Our food spread showcased our favorite snacks from Disney Parks. It was hard not to get carried away on the number of snacks to make, so I did have to cut them down to our absolute favorites.
Our menu included:
Mickey Shaped Soft Pretzels
Main Street popcorn
Casey's Corner Hot Dog Bar
Aloha Isle Dole Whips
Golden Oak Outpost Waffle Fries
Sleepy Hollow Waffle Sandwiches
Be Our Guest Master's Cupcake
Cheshire Cafe Gourmet Cake Cups
Jungle Juice (Passion fruit, Orange and Guava juice mix)
In the kitchen, we set up a Beaches and Cream Ice Cream Shoppe. We put out a selection of ice creams plus most of the toppings you would see in the famous "Kitchen Sink".
Our family room housed stations that highlighted some of our favorite Walt Disney World activities.We wished we could have recreated some of our favorite rides, but wintertime in New York left us with limited space and no use of our yard. We had to think of activities that we could do inside that our guests would love.
One of our favorite things to do in Epcot (besides eating) is to visit the Kidcot Fun Stops. We set up a station where the guests could color Duffy and learn a little bit more about the countries of World Showcase.
At the same table, we set up Animal Kingdom's Wilderness Explorer badges for the kids to color. Even safari Mickey and Minnie stopped by to check on their progress.
Hollywood Studios is home to Toy Story Midway Mania. To give our guests and idea of what the ride is like, we set up the Wii game.
Our daughter loves to show her #DisneySide by dressing up. To honor that, we set up a Bibbidi Bobbidi Boutique and a Pirates League. The station had a variety of jewelry, crowns, eye patches and pirate gear.
Last but not least, we had a real treat for our guests. Something we enjoy doing as a family Beyond the Parks is to play miniature golf. Why not make a couple of holes of mini golf to play inside? It was a big hit!
Each station at the party included an informative sign that would let guests know a little bit more about each attraction. The signs proved to be a conversation starter. Whether it was reminiscing about going to these places on a previous trip or asking questions so they could enjoy it on their next trip, it was nice to talk about Disney. Also at some point in the party, we watched the Disney Parks planning video and a slideshow of all of our favorite Disney Moments. Our kids especially enjoyed showing their friends all the places they had been on vacation.
Our #DisneySide @ Home Celebration was a huge success! We wish you were all there to share it with us. We would like to thank our generous sponsors Disney Parks and Mom Select for allowing us to make this magical party happen. We'd also like to thank our brand sponsors HP, Wisk, All, Snuggle, Beyond Meat, Soy Vay, Duff Goldman and Gartner Studios.
Stay tuned for more detail posts about parts of our party AND an opportunity for you to host your own #DisneySide @ Home Celebration!
---
We received free products in order to host a Disney Side @ Home Celebration. The opinions expressed here are our own.