Spring is in the air! What better way to celebrate the beginning of a new season than with a Disney movie. The perfect movie to begin the season of flowers, insects and nature is… "A Bug's Life!"
Welcome to our "A Bug's Life" Movie Night! We began doing movie nights last spring, and this was our first one! Movie nights are a great opportunity for families to get together. It gives us a chance to eat fun foods, get creative and be a family.
Something that we did for this night was to print out pics from our visit with Flick at Animal Kingdom. It's an inexpensive way to decorate and fills your movie night with some magical memories.
The Decor:
We decorated the fireplace with nature decorations we could find around the house. Also, we used some printable character pics and drawings made by our daughter.
The Menu: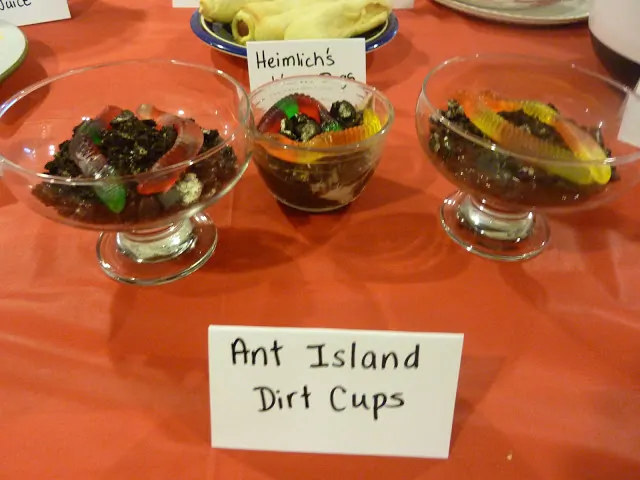 Dot's Bug Juice (aka Pink Lemonade)
Francis' Ladybug crackers
Princess Atta's Ants on a Log
Heimlich's Worm Dogs (Hot dogs wrapped in crescent dough)
Flick's Field Greens salad
Ant Island Dirt Cups (pudding topped with crushed oreos and gummy worms)
Dining for this movie was picnic style, complete with a picnic blanket and checkered paper plates. We ate while we watched the movie.
The Craft:
For this night, we made paper plate bug masks.
Cut two eye holes in a white paper plate
Decorate your bug's face any way you wish
Hole punch two holes at the top of the mask
Insert pipe cleaners through the holes for your antennae
Hole punch two more holes at the sides
Tie string or yarn to each hole (this will be used to tie the mask to your face)
The finished product…
We're hoping you'll celebrate the beginning of this spring with A Bug's Life night! Have fun!