Water parks are great places to take the whole family for a day of fun. Through trial and error, we've found that bringing certain items can help make your day even better!
Here's what to pack for a great day at the water park!
The Essentials:
Bathing Suit, Towel, & Change of Clothes
Showing up at a water park without a bathing suit is pointless. But be sure that your bathing suit of choice is something comfortable and secure. You wouldn't want to lose your suit on a waterslide!
We've been to a few water parks, and some provide towels while others do not. And the ones that do often give you towels that are too small, and limit you to one per person. So, we always bring along a few beach towels.
When the water fun is done, you'll want to get back into dry clothes. You'll also need a place to put the wet stuff. Large plastic storage bags or a "wet bag" like these from Amazon will do the trick.
Sunscreen, Hygiene Products, Medications, & First Aid
Even if you're going to an indoor water park, sunscreen is a must. Those indoor water parks will often have transparent roofs and outdoor areas. Choose a broad spectrum sunscreen for the best protection and reapply throughout the day.
Be sure to pack any hygiene products or medications that you might need so you have them on hand. A small first aid kit is also highly recommended. I don't think we've had one water park experience that didn't include a bump, cut, or scrape.
Drinking Water
Staying hydrated is always important. Being in water is not enough. You have to drink it to get the benefits. In fact, while swimming and having fun at a water park can make you sweat, you're less likely to notice because you are wet.
So be sure to pack some water bottles or even a refillable bottle to two and take breaks every so often to hydrate!
Consider Bringing These Items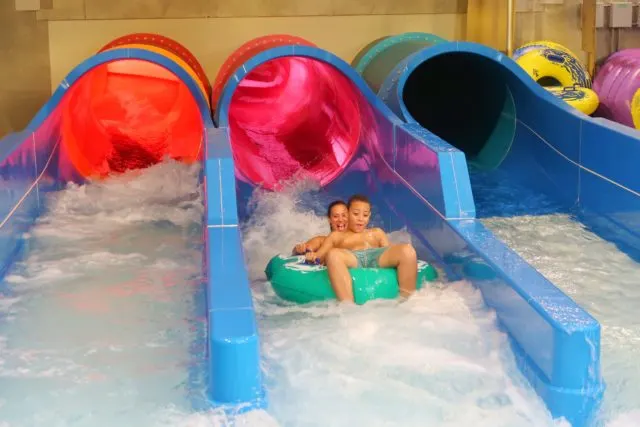 Beach Bag or Backpack, Soft Insulated Cooler, & Waterproof Phone Case
Carrying all your stuff is easier with some bags or cases to put it in. A beach bag or backpack works well for packing all your essentials and other items.
If you're packing lunch, snacks, or bottled water, an insulated cooler bag is a must! (Check the water park's guidelines to see if they allow you to bring food)
Many water parks will have lockers available to rent while you are there. But you'll probably want to keep your phone, credit card, and some cash on you. A waterproof phone case like the one I have from Joto is perfect, and less than $10!
The Extras:
Hat, Cover-Up, Sunglasses, & Goggles
Your need for these may vary. But having a hat and sunglasses can help cut down on the glare from the sun. Goggles are always fun to have in the water, and for some people they are a must to keep water out of their eyes.
A Cover-Up is great for when you are taking a break from the water but don't want to get completely changed.
Sandals, Flip Flops, & Water Shoes
You'll obviously need footwear getting to and from the water park. But once you are inside, what do you wear? You can probably get away with going barefoot, but a hot pavement may make you wish for something on your feet.
Sandals or Flip Flops are a good option for slipping on and off as you need. You won't wear them in the lazy river, but can throw them on to make a trip to the bathroom or concession stand.
Water shoes will give your feet protection in and out of the water. They'll save you from the scorching pavement, and also from scraping your toes on the bottom of the pool. There's only been one occasion I was asked to remove my water shoes to go down a water slide. But I was allowed to hold them as I did.
Life Jacket & Safety Tattoos/Wristbands
Any reputable water park will be staffed with lifeguards to watch over everyone. Some will insist that children under a certain height be accompanied by an adult or be wearing a life jacket.
Most water parks will provide life jackets, but there may be a limited number of them available. If you know your child will need one, you may want to bring a Coast Guard approved life jacket with you.
Water parks are big places, filled with lots of people. If you are separated from your children, they can be hard to find. One way to keep your kids safe is to put a waterproof tattoo or wristband on them with your cell phone number. This way, if anything happens, whoever is with your child can get in touch with you.
Waterproof Camera & Battery Packs
If you have a waterproof phone case, then you can get lots of great pics and videos in and out of the water. But, if you have a waterproof camera or a GoPro, you may want to bring that with you, as well.
These days, keeping your devices charged can be a challenge. You're not likely to have access to charging stations or outlets inside a water park. So packing spare batteries and/or a portable battery pack is a good idea. And be sure to grab whatever cables you will need, as well!
Toiletries, Hair Brush, & Hair Ties
Last on our list of things you might want to bring are toiletries. Packing little travel bottles of shower gel and shampoo can come in handy for cleaning up before leaving the water park. Most water parks provide showers you can take advantage of.
You may also want a hair brush and hair ties.
Printable Water Park Packing List