Don't take your family on the road this summer without making a big batch of Woody's Road Trip Snack Mix.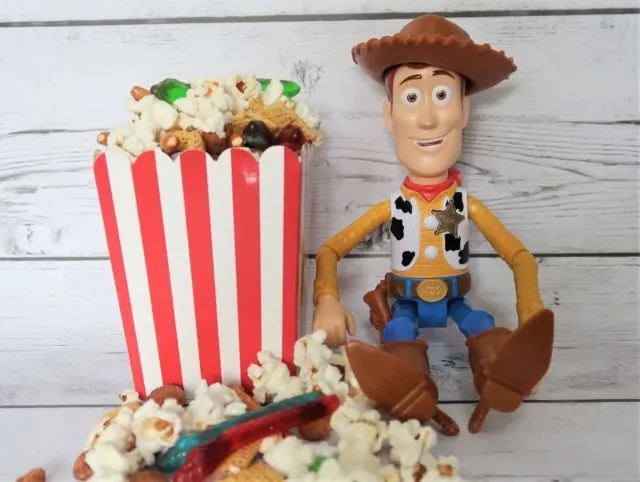 Toy Story 4 hits theaters on June 21st. We're so excited for the 4th installment of this beloved movie franchise (though I still haven't gotten over the end of Toy Story 3).
About Toy Story 4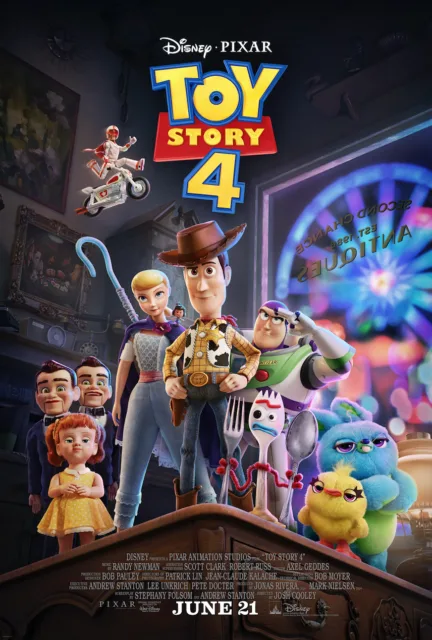 Woody (voice of Tom Hanks) has always been confident about his place in the world, and that his priority is taking care of his kid, whether that's Andy or Bonnie. So when Bonnie's beloved new craft-project-turned-toy, Forky (voice of Tony Hale), declares himself as "trash" and not a toy, Woody takes it upon himself to show Forky why he should embrace being a toy.
When Bonnie takes the toys on her family's road trip, Woody ends up on an unexpected detour that includes a reunion with his long-lost friend Bo Peep, whose adventurous spirit and life on the road belie her delicate porcelain exterior. Woody and Bo are worlds apart when it comes to life as a toy, and they soon realize that's the least of their worries.
Take a Road Trip
As you can see, one big plot point of the movie is when Bonnie takes her toys on her family's road trip. As a huge road tripping family ourselves, this really resonates with us. Road trips are a tradition that take me back to my childhood. On Sunday afternoons, my family would jump in the car and just drive. Sometimes the destinations were known, sometimes not. For us, road trips were a way to get to know where we lived and each other.
I've kept the road tripping tradition going with my family. We'll be gearing up to take our annual summer road trip from New York to Florida. While I know that this one will be more planned than the ones I took as a kid, it will be just as fun.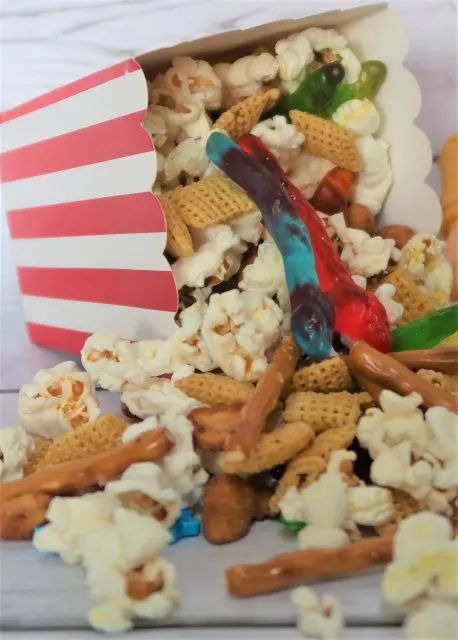 For me, one of the best parts of taking a family road trip is the snacks. No better way to pass the time than to eat I say. While I try to keep the selection of snacks we take along on the healthy side, I do include a little bit of junk food. My personal go-to snack is a giant bag of Twizzlers while my kids like things such as sour patch kids and gummy life savers. But the best way to take your favorite snacks on a road trip is to put them in a road trip mix.
How to Make a Road Trip Snack Mix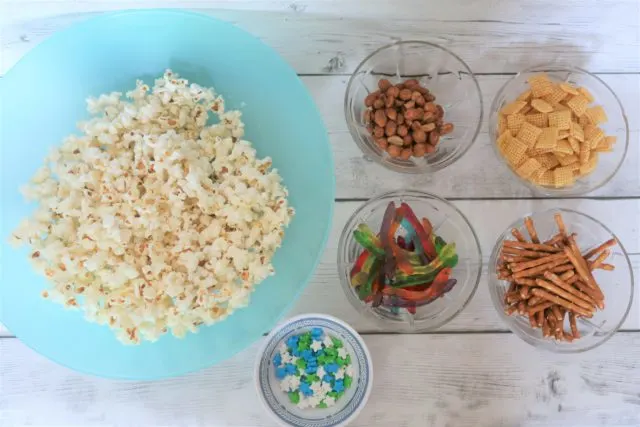 When making a snack mix for the road, there are a few things to consider. First, as much as you'd want to include it, do not use chocolate. No matter what time of the year it is, the car can get hot. The chocolate will melt and all you'll have is a snack mix mess.
Also, try not to include things that are sticky such as marshmallows, for the same reason as above. When I make a mix, I like to use a combination of sweet and savory ingredients. Lastly, include something fun. While the majority of the mix can be healthy, have at least one junk foody-like ingredient for a treat.
Woody's Road Trip Snack Mix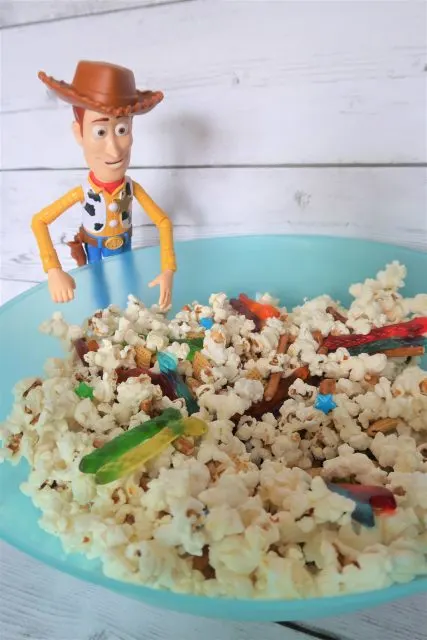 Inspired by the road trip in Toy Story 4 and Sheriff Woody, I created a fun road trip snack mix. It's a combination of sweet and savory ingredients, and one special treat that pays homage to one of Woody's famous sayings.
Woody's Road Trip Snack Mix
Take along this snack mix inspired by Toy Story 4. It's combination of sweet and savory ingredients make this a fun treat to have while on a road trip.
Ingredients
6 cups air popped popcorn
2 cups corn squares cereal
1 cup pretzel sticks
1 cup honey roasted peanuts
1 5oz package of gummy snakes or worms
3 T star-shaped candy sprinkles
Instructions
Make popcorn using an air popper or microwavable popcorn maker.
Measure out all the ingredients.
Pour all the ingredients into a large bowl.
Mix all the ingredients together until well mixed
Store snack mix in an air-tight container.
Recommended Products
As an Amazon Associate and member of other affiliate programs, I earn from qualifying purchases.
Nutrition Information:
Yield:
6
Serving Size:
1
Amount Per Serving:
Calories:

360
Total Fat:

12g
Saturated Fat:

2g
Trans Fat:

0g
Unsaturated Fat:

10g
Cholesterol:

0mg
Sodium:

203mg
Carbohydrates:

57g
Fiber:

5g
Sugar:

21g
Protein:

10g
Please note. Nutrition information isn't always accurate.
More Toy Story Posts
https://adventuresinfamilyhood.com/mr-potato-head-disney-vacation-countdown-toy-story-land.html
https://adventuresinfamilyhood.com/5-awesome-things-toy-story-land-hollywood-studios.html
Pin it for Later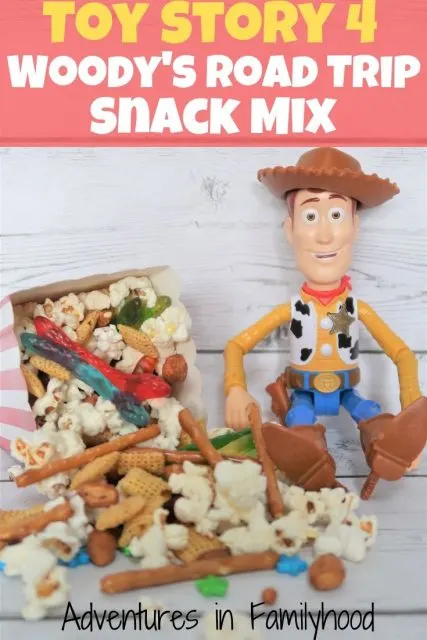 More Toy Story 4 Snack Mixes
For more Toy Story 4 inspired snack mixes, check out these recipes from Disney/Pixar.