T.O.T.S: Bringing This Baby Home is now available to own on DVD. Get ready for a cuteness overload.
Thank you to Team Click for providing us with a copy to facilitate this review.
If you have little ones at home, then I'm sure you know all about T.O.T.S. The Disney Junior show which stands for Tiny Ones Transport Service follows the adventures of Pip, a penguin, and Freddy, a flamingo, who are the only non-stork delivery birds. It premiered this past June and already it's a big hit. I'm almost sad that my kids are too old to enjoy it but my 3 year old nephew loves it!
Kids who can't get enough of T.O.T.S. will be happy to learn that a DVD of seven, 22 minute episodes is now available to own. The DVD also includes 6 music videos and a ton of the cutest animal babies.
T.O.T.S: Bringing This Baby Home
Join best friends Pip and Freddy, delivery birds for the Tiny Ones Transport Service (T.O.T.S.), as they take cute and cuddly baby animals to their forever families, including a big batch of bouncing baby bunnies, a baby panda who's almost TOO adorable, a trip to the ocean with one whale of a baby, and much more!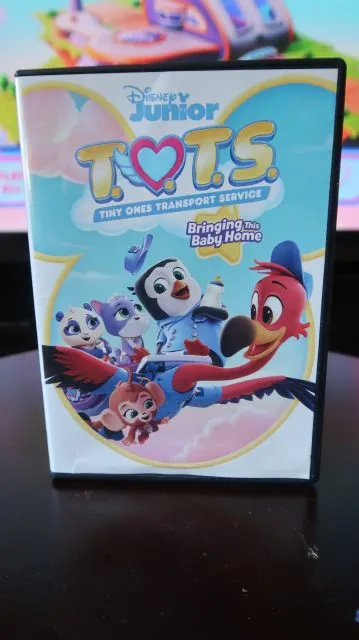 Episodes on this DVD include:
You've Gotta Be Kitten Me/Whale,
Hello There Panda Excess/A Stinky Situation
Cheetah Chase/Training Daze
Nursery Schooling/Bunny Bunanza
The Purrfect Little Helper/The Colorful Chameleon
Stripe Out/A Splashy Delivery
Night Flight/Slippery When Wet
Why Kids Will Love T.O.T.S DVD
Kids will love T.O.T.S because of the overload of cuteness. Tiny babies animal getting delivered to their forever homes will absolutely melt their hearts. Lighthearted jokes are sprinkled in throughout each episode. The flamingo, Freddy, especially had us laughing out loud. T.O.T.S also has a great messages about the importance of family and celebrating diversity.
Where to Buy T.O.T.S DVD
T.O.T.S: Bringing This Baby Home is available at most major retailers including Target, Walmart and Amazon. Click below to buy a copy through Amazon (affiliate link).