Epcot is known for being a showcase of innovation and world culture. It's also home to some fun attractions, as well. We've found some of the best YouTube videos to make you feel like you are there, even when you can't be.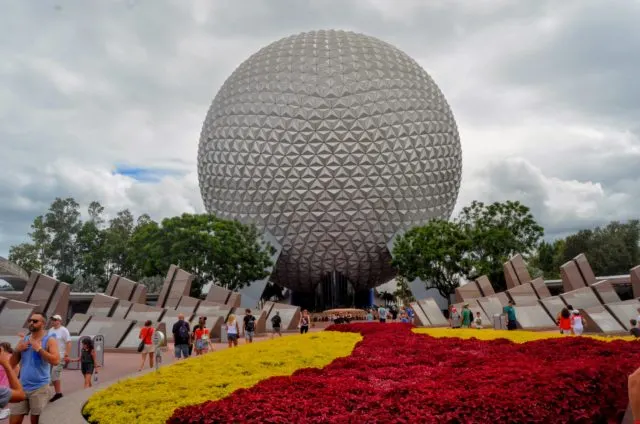 Right now, Epcot is undergoing a lot of construction, and new attractions are being added. What you'll find here is a mix of old and new. So whether you loved Epcot when it first opened, or love Epcot as it is today, you will love the videos we've collected here.
Virtual Walt Disney World Series
Our virtual Walt Disney World series is just a fun way to explore and enjoy the parks when you can't be there. Because the majority of these videos are from the guest's point of view (POV), they can be even more fun viewed through VR headsets for your phone, or by projecting it on a wall or viewing on a big screen tv.
You can even get creative and make ride vehicles to sit in and add your own special effects. Have fun with it!!
And because it's all virtual, you can hop from park to park as much as you want. Here are the links to the other parks:
Monorail to Epcot
Epcot Walk Through
If you want to just walk around the entire park, including each pavilion, then this 1 hour and 20 minute tour will do that. It doesn't include any attractions, though. This was recorded during the Epcot International Flower & Garden Festival, so you get to see lots of topiary.
Another way you can "walk" around the park is with Google Street View of Epcot. This will start you off Spaceship Earth, just inside the main entrance.
Future World
Future World is currently undergoing a major renovation, with a new version of Spaceship Earth to come, a whole new Guardians of the Galaxy attraction, a Play Pavilion, and more.
Spaceship Earth
Explore the history of communication and how it has shaped human civilization.
The Seas With Nemo & Friends
Help Marlin find Nemo with the help of some friends as you journey to the Seas with Nemo and friends.
Turtle Talk With Crush
This interactive show is never the same twice as Crush learns all about humans and tells you some things you may not know about sea turtles.
Living With The Land
Take this relaxing boat ride through the history of farming and a look at the modern techniques being used to grow food that is used at the restaurants inside the park!
Soarin' Around the World
A fan favorite, Soarin' Around the World gives you the feeling of flying over some of the most famous places around the globe.
Journey into Imagination with Figment
Learn to see the world through your senses and use your imagination with a little help from Figment.
Ellen's Energy Adventure
Ellen's Energy Adventure recently closed to make way for the new Guardians of the Galaxy Roller Coaster. But in virtual Epcot, we'll keep Ellen's Energy Adventure running until GotG opens.
Mission Space
Take part in mission to Mars. At the park, you have two options: one milder experience and one where you really feel the g-forces of space flight. In this virtual version, you won't have to worry about those!
Test Track
At Test Track, you can design your own car and put it through several tests to see how it performs. In this virtual version, we'll skip right to the fun part and put you in the vehicle as it heads on to the testing track.
JAMMitors
If you've never seen the JAMMitors, take a few minutes to check these guys out as they drum away on garbage cans!
World Showcase
World Showcase puts the cultures of 11 different countries side-by-side for guests to explore one after the other. You can sample merchandise, try foods, and enjoy some entertainment as well.
The American Adventure
This stage show and cinematic retelling of the story of America is told by Benjamin Franklin and Mark Twain.
Canada Far and Wide in CircleVision 360
Explore the Great White North in this CircleVision 360 film.
Gran Fiesta Tour Starring the Three Caballeros
Take a relaxing boat ride through Mexico. Keep your eyes peeled for Donald Duck!
Frozen Ever After
Journey through Arendelle and see all your favorite characters from Frozen.
Impressions de France
Journey to France in this super widescreen film that showcases its charm and romance.
World Showcase Entertainment
British Revolution (United Kingdom Pavilion)
Enjoy the musical stylings of British Revolution as they perform hits from well-known British bands.
Suroit Folk Band (Canada Pavilion)
Suroit is one of several bands that performs at the stage in Canada. Their music is influenced by the Celtic, Bluegrass, and Cajun genres.
Jeweled Dragon Acrobats (China Pavilion)
See the amazing Jeweled Dragon Acrobats performing in the front of the China Pavilion.
Matsuriza (Japan Pavilion)
Matsuriza announced that they've played their final show in the Japan pavilion. You can catch that final performance here.
Mariachi Cobre (Mexico Pavilion)
The Mariachi Cobre perform and tell the story of Coco in their own musical way.
Rose and Crown Pub Musician (United Kingdom Pavilion)
Tucked away inside the Rose and Crown Pub is a piano-playing musician who often works guests into her songs. Here she is singing "Home for a Rest".
Sergio (Italy Pavilion)
Sergio is a talented and funny performer who never talks, but communicates through gestures and a whistle to get help from his audience.
Serveur Amusant (France Pavilion)
Serveur Amusant is a duo that delight the guests in the France pavilion with their balancing act.
Voices of Liberty (American Adventure)
The domed hall of the American Adventure is the perfect place for the a capella chorus to sings its patriotic tunes.
Epcot Forever
The new nighttime show at Epcot celebrates its history by featuring songs from attractions past and present.
IllumiNations
Since Epcot Forever is so new and a lot of people loved IllumiNations, we'll include that as well.
We hope you enjoyed this virtual visit to Epcot. You can also check out our virtual visit to Magic Kingdom, virtual Disney's Hollywood Studios and virtual Disney's Animal Kingdom.